☰
Cooking with Morgane
Welcome
×
Sizzling Black Bean Beef
Melting, tender, lightly grilled, caramelized beef, deliciously seasoned with douchi beans
Serve it on a hot plate, your dish will be spectacular, but without it the recipe will be just as successful and delicious! Before that, the beef should be stir-fried for a short time and over a very high heat, so preheat your pan well. The meat will be lightly grilled while remaining tender and juicy. Adding honey helps the beef caramelize a little, it also keeps the meat tender by wrapping it in a smooth juice during cooking. The sugar of the honey also balances the dish against the salty of the black beans.
These black beans, also called 'douchi', are fermented and salted black soybeans. Douchi is a very ancient and highly regarded ingredient in Chinese cuisine. It brings a great flavor (umami) and a particular scent similar to that of miso paste, but more intense. It is always used in small quantities, it only seasons the dishes. It goes very well with steamed fish, beef or pork, it makes a delicious duo with ginger. When we saute green vegetables in the Chinese way, for example water spinach, we will add a little douchi to subtly season. It is also found in the DIM SUMs, such as the chicken feet.
You will find these black beans in any Asian grocery store. The dry version, the one I used in this recipe, will keep for years. You can also find a brine version, sometimes also made from white soybeans. Bon appétit !
Ingredients for 2 people
Marinade
300g tender beef
15g salted black beans 'Douchi'
1 tsp grated ginger
10g garlic
1 tsp sesame oil
1 tsp dark soy sauce
1 tbsp Shaoxing cooking wine
1 tbsp honey
Pinch ground pepper
1 tbsp cornstarch
1 tbsp vegetable oil
Plus
1 bell pepper
2 onions
1 tsp grated ginger
10g garlic
1 tbsp light soy sauce
10cl broth or water
2 tbsp vegetable oil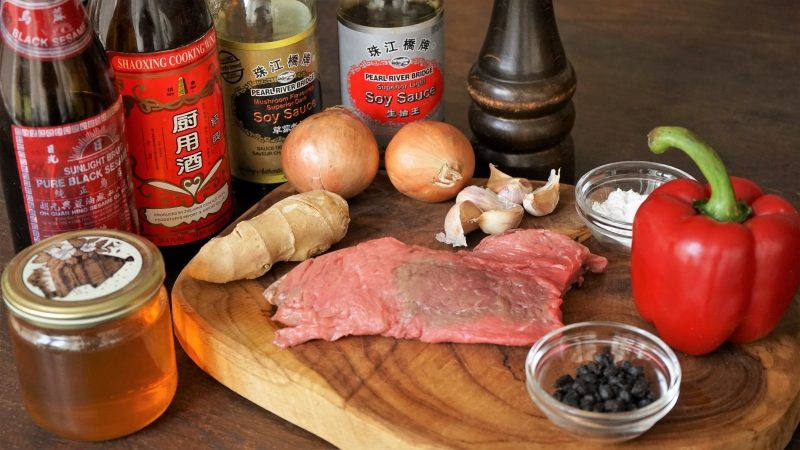 Ingredients
Share this recipe:
Watch the Recipe Video
Sizzling Black Bean Beef - Morgane Recipes

© Copyright 2015- Cooking With Morgane - Bounnhing Boualavong. All rights reserved.