☰
Cooking with Morgane
Welcome
×
Sizzling Black Pepper Beef
The ideal pair: melting beef with pepper fragrance
In this particular recipe black pepper is extensively used but this does not imply to get a dish too spicy or hot. Black pepper is a spice that has a very specific sweet scent and that's what we're looking for here to go with the beef. The pepper must not be too crushed, it must be coarse. Use one or two short pulses with a coffee grinder to get it. Do not use black pepper powder.

Baking soda is a trick used by many restaurateurs to tenderize the beef meat. However, do not forget to RINSE the meat after letting it marinate. You will also carefully drain it. At the time of cooking, the oil to pour the ingredients in must be very hot, almost smoking.

The hot plate used for the final presentation is optional, it is used to keep the dish hot on the table. But also it makes the recipe a little spectacular and awakens all the appetites: your guests hear the beef grilling, they see it smoking and the perfumes spreading. Eat immediately with Thai fragrant rice and homemade vegetables pickles. Bon appétit.
Ingredients for 4 people
600g beef
8g black pepper
1 tsp ginger
1 garlic clove
1 spring onion
1 tsp baking soda
¼ tsp salt
1 tbsp light soy sauce
2 tsp dark soy sauce
1 tbsp oyster sauce
2 tsp Shaoxing cooking wine
A few drops sesame oil
1 tsp cornstarch
4 tbsp vegetable oil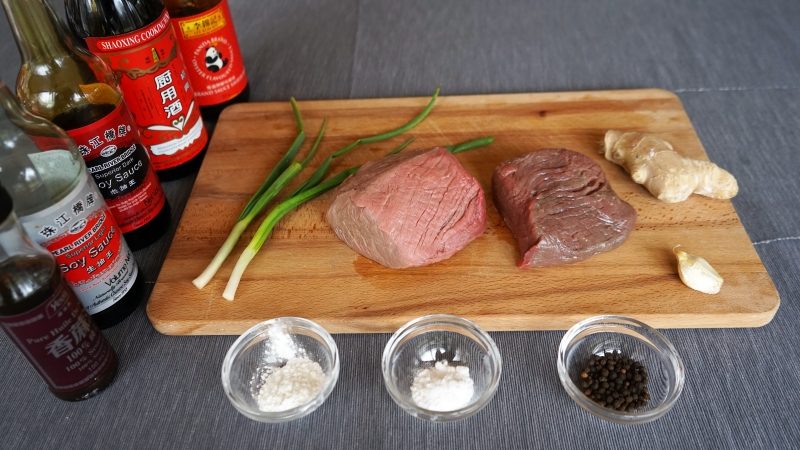 Ingredients
Share this recipe:
Watch the Recipe Video
Sizzling Black Pepper Beef - Morgane Recipes

© Copyright 2015- Cooking With Morgane - Bounnhing Boualavong. All rights reserved.