TOM YAM KUNG, Thai Soup with Shrimp and Tamarind - ต้มยำกุ้ง
The best known Thai soup
This is a soup with shrimp, its delicious tangy taste comes from the use of tamarind, lime and herbs. Using some
homemade prik pao chili paste
is important for the success of the dish.
In restaurants of Thailand, it will be served particularly sour and spicy. By learning to prepare it yourself, you will be able to modulate the ingredients and balance them according to your tastes.
The Laotians also appreciate it very much, they call it
Keng som kung
. Bon appétit.
Ingredients for 2 people
1L chicken stock
10 shrimp
2 cloves of garlic
2 shallots
2 hot chilies (optional)
2 lemongrass
10 kaffir lime leaves
20g galangal
30g tamarind paste
4 tbsp limon juice
3 tbsp fish sauce
2 tbsp prik pao
10 cherry tomatoes
10 straw mushroom
5 mini corn cobs
2 chives
5 sprigs of coriander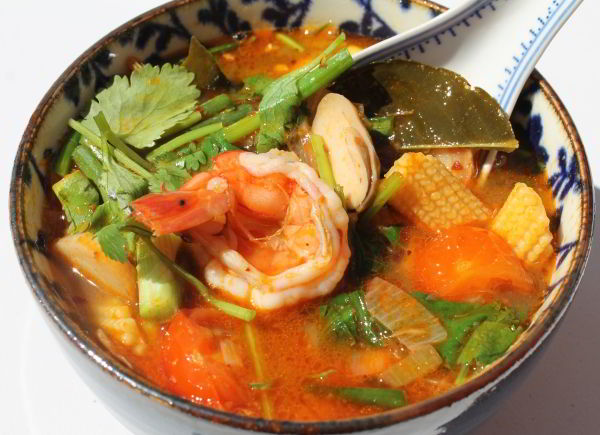 Share this recipe:
Watch the Recipe Video
TOM YAM KUNG, Thai Soup with Shrimp and Tamarind - ต้มยำกุ้ง - Morgane Recipes