☰
Cooking with Morgane
Welcome
×
Thai Chilli Jam
Prik Pao
How to make this essential Thai cuisine base
This recipe is my version of the Thai Prik Pao chilli jam. It is full of flavors and not too hot. I use red dried peppers, they are that very fragrant. This jam is essential to make the famous Tom Yam Kung soup (with shrimp) or Tom Yam Kai (with chicken), but also the salads called 'Yam', or the duck with green pepper 'pad ped bai kra prao'.

It is always useful to have a pot at home, you can keep it well for several months in the fridge. Bon appétit.
Ingredients for one recipe
15g dried sweet chilies
60g shallots
20g garlic
20g small dried shrimps
15g tamarind paste
10g palm or white sugar
A good pinch of salt
Oil for frying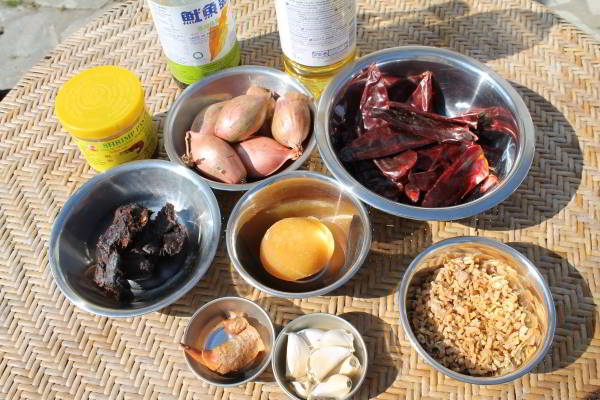 Prik Pao chilli paste ingredients
Share this recipe:
Watch the Recipe Video
Thai Chilli Jam - Prik Pao - Morgane Recipes

© Copyright 2015- Cooking With Morgane - Bounnhing Boualavong. All rights reserved.