☰
Cooking with Morgane
Welcome
×
Stir Fry Chicken Noodles
Chow Mein
Everyone will agree on the family dish
Stir fry noodles are part of the traditional Chinese dishes and there are many versions. Here is how we make the chicken variant in my family. First, in this dish, it is the noodles that delight everyone, much more than the meat that goes with it. The amount of chicken is not too important, but its preparation must give him taste: it is marinated and caramelized.

The noodles are first cooked in boiling water very quickly, as soon as they come up to the surface, they are drained. Then we can stir fry them with all the other ingredients. Some vegetables such as bean sprout or bamboo shoots mingle with the noodles and bring crispness. The scent of black pepper must be there too. Choose the noodles (made with wheat flour and eggs) that you like, the recipe works in any case. Of course ideally make your noodles at home it is fun and easy. Bon appétit.
Ingredients for 4 people
400g fresh egg noodles
350g chicken thighs
250g bean sprouts
250g bamboo shoots
4 Shiitake mushrooms
2 onions
2 spring onions
10g cilantro
3 garlic cloves
1 tsp grated ginger
3 tbsp light soy sauce
1 tbsp dark soy sauce
2 tbsp oyster sauce
1 pinch and ¼ tsp salt
2 pinches ground pepper
1 tsp cornstarch
2 tbsp sugar
4 tbsp vegetable oil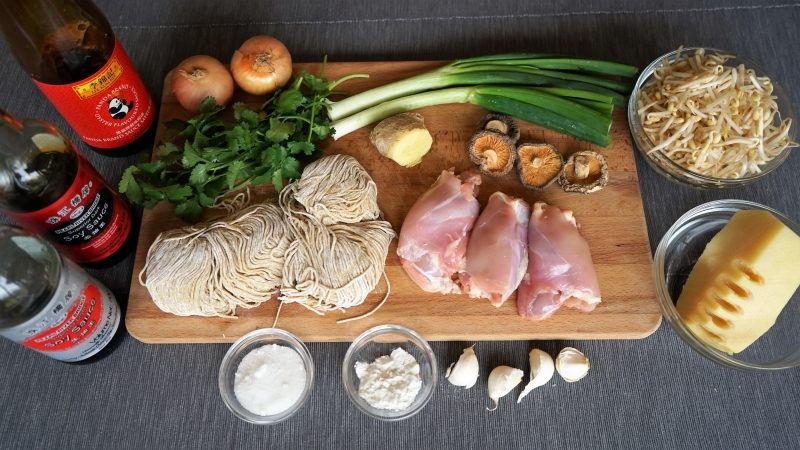 Ingredients
Share this recipe:
Watch the Recipe Video
Stir Fry Chicken Noodles - Chow Mein - Morgane Recipes

© Copyright 2015- Cooking With Morgane - Bounnhing Boualavong. All rights reserved.