☰
Cooking with Morgane
Welcome
×
Chinese Egg Noodles
麵條
The success of many dishes depends on this basic ingredient
The egg noodles are a very important ingredient in the Chinese gastronomy. Their firm texture and their taste make the success of the dish in which they are included. If the noodles are good, the dish is good. The noodles will focus the attention of the connoisseurs, more than the other ingredients.

To obtain good Chinese egg noodles, the kneading phase during the preparation should not be neglected, it is rather long. By kneading, you may get the impression that the dough is too hard, do not worry, it's normal, DO NOT ADD MORE WATER! On the other hand, these are EGG noodles, so you can possibly improve the taste of noodles using eggs from chickens raised outdoors.

Fresh noodles can be frozen for later use. Try the homemade Chinese egg noodles, you will be delighted: make a recipe to use them in a stir-fried dish with vegetables and/or meat, in a soup, etc. Bon appétit.
Ingredients for 4 people
500g flour
4 eggs
¼ tsp salt
1 tbsp water
2 tbsp tapioca starch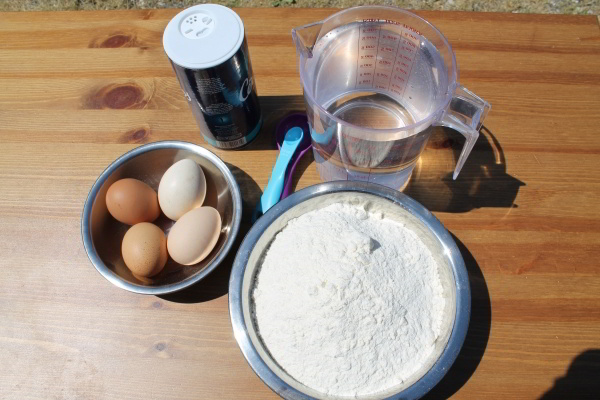 Ingredients
Share this recipe:
Watch the Recipe Video
Chinese Egg Noodles - 麵條 - Morgane Recipes

© Copyright 2015- Cooking With Morgane - Bounnhing Boualavong. All rights reserved.