☰
Cooking with Morgane
Welcome
×
Banh Xeo Vietnamese Turmeric Crepe
Turmeric and coconut outside, mung beans and pork inside
This delicious and hearty Vietnamese crepe exists in different versions. In Laos, we particularly like the mung beans, they make the filling rich and provide a floury touch that goes well with crunchy bean sprouts.

You can replace the pork with chicken, you can also add shrimp. Offer this crepe as a starter or as a complete dish. Serve hot with salad leaves, mint, coriander, basil. Don't forget the spring roll dipping sauce. Bon appétit.
Ingredients for 8 crepes
Batter
300g rice flour
2 tsp turmeric powder
40cl coconut milk
40cl water
½ tsp salt
1 tsp sugar
5 spring onion
Stuffing
400g ground pork
200g mung beans
½ tsp sallt
1 tbsp fish sauce
2 tbsp oyster sauce
3 tbsp of oil
1 onion
4 garlic cloves
250g bean sprouts
5 spring onion
Vegetables and dipping sauce
Salad leaves
10 mint sprigs
10g cilantro
Spring rolls sauce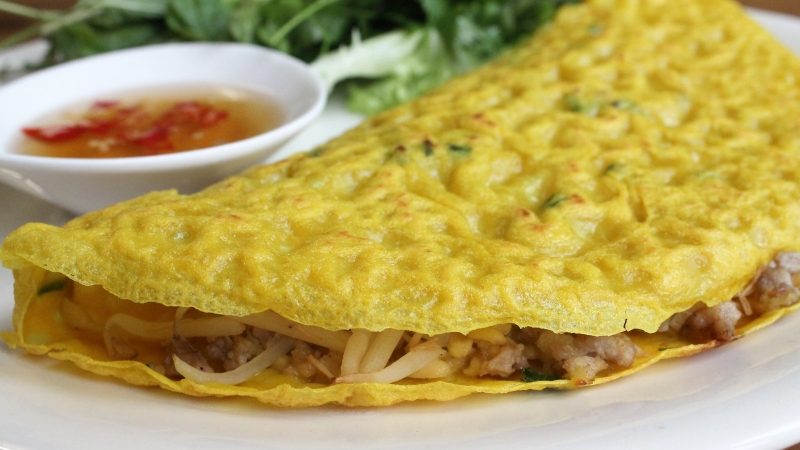 Share this recipe:
Watch the Recipe Video
Banh Xeo Vietnamese Turmeric Crepe - Morgane Recipes

© Copyright 2015- Cooking With Morgane - Bounnhing Boualavong. All rights reserved.