☰
Cooking with Morgane
Welcome
×
Dolsot Bibimbap
Rice, vegetables and meat to mix in a hot bowl
In Korean 'bibim' means mixing and 'bap' rice. The Dolsot Bibimbap is a rice-based dish with meat and vegetables, it has crossed the Korean borders and is now popular worldwide. The bowl used to serve it is called Dolsot, it is made of stone or terracotta. It allows to heat the bibimbap and to make the rice crispy. Each guest then mixes all the prepared ingredients, the meat and the egg will cook against the burning sides.

The vegetables may vary depending on the contents of the refrigerator: cabbage, leek, spinach, carrot, zucchini. You just have to pass them separately and very quickly in the pan with a little salt. For the presentation, do as Korean: they like a nice palette of alternating colors of food.

For those who appreciate the roasted rice, leave your dolsot on the fire two or three minutes more. You can add a little kimchi if you like. Enjoy your meal.
Ingredients for 2 people
200g short grain rice
100g beef tenderloin
4 Shiitake mushrooms
½ carrot
½ zucchini
1/3 red pepper
100g spinach
100g bean sprouts
1 spring onion
1 tbsp soy sauce
1 tsp honey
1 tbsp Korean chili paste (gochujang)
1 tsp sugar
2 egg yolks
2 garlic cloves
Salt and ground pepper
1 tbsp sesame seeds
5 tsp + 3 tbsp sesame oil
4 tsp vegetable oil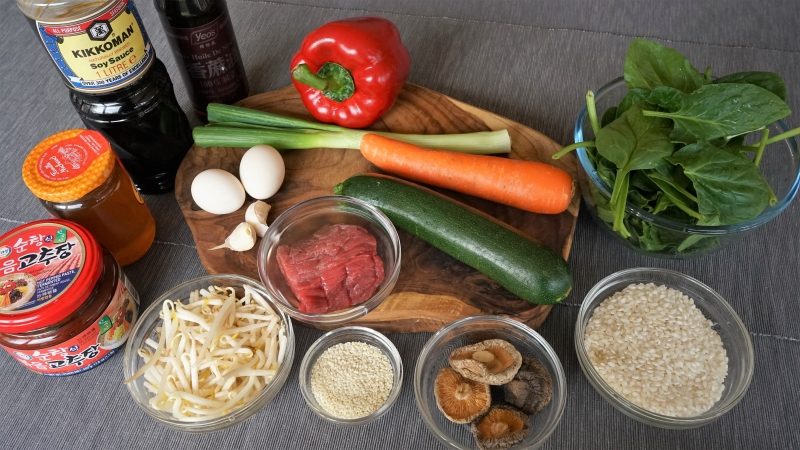 Ingredients
Share this recipe:
Watch the Recipe Video
Dolsot Bibimbap - Morgane Recipes

© Copyright 2015- Cooking With Morgane - Bounnhing Boualavong. All rights reserved.