☰
Cooking with Morgane
Welcome
×
Chinese Traditional Caramelized Pork with Eggs
A Fantastic Chinese Stew Dish
This traditional Chinese dish is much appreciated in family and on special occasions. We often make it in large quantities. If there is some leftover, it does not bother anyone to enjoy it again the following days.

The cooking can last longer, just make sure to keep a very low fire and to add water if needed. You can for example let it simmer on a electric hot plate at the lowest temperature for 4 or 5 hours, you will get a tasty and melt-in-mouth meat.

Serve with Thai fragrant rice. Bon appétit.
Ingredients for 6 people
800g of pork meat
400g of pork belly
6 eggs
250g of firm tofu
4 shiitake mushrooms
6 star anise
1 cinnamon stick
30g of galangal
3 shallots
3 cloves of garlic
2 tbsp of light soy sauce
2 tbsp of thick soy sauce
2 tbsp of oyster sauce
1 tsp of salt
3 tbsp of oil
800ml of water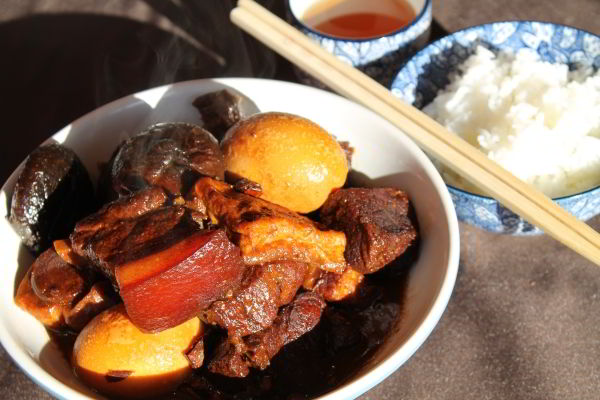 Share this recipe:
Watch the Recipe Video
Chinese Traditional Caramelized Pork with Eggs - Morgane Recipes

© Copyright 2015- Cooking With Morgane - Bounnhing Boualavong. All rights reserved.