☰
Cooking with Morgane
Welcome
×
Sautéed Chicken and Crispy Spring Rolls Noodle Salad
The chicken version of this tasty Vietnamese 'Bo Bun' dish
One of the most famous Vietnamese dishes is 'Bo Bun' which is a beef and vermicelli salad, here I replaced the beef with chicken and I add some homemade crispy spring rolls. In Vietnamese we could call this dish 'Ga Bun Cha Gio'.

Each guest pour the spring rolls dipping sauce 'Nuoc Cham' and then mixes his bowl. The dish is eaten cold or warm. It is the wide variety of flavors and textures that gives the bowl its appeal and makes it so enjoyable: meat marinated with turmeric and lemongrass, fried shallots, roasted peanuts, herbs, acid and sweet Nuoc Cham sauce... Bon appétit.
Ingredients for 2 people
Chicken Marinade
250g chicken breast
1 lemongrass
1 onion
2 garlic cloves
1 tbsp fish sauce
1 tbsp oyster sauce
¼ tsp salt
A pinch of ground pepper
1 tsp turmeric
1 tbsp vegetable oil
Other ingredients
200g dehydrated rice noodles
6 crispy spring rolls
Frying oil
¼ cucumber
1 carrot
1 salad leaf
1 spring onion
5g cilantro
2 mint branches
2 basil branches
50g bean sprouts
80g shallots
2 tbsp roasted peanuts
6 tbsp vegetable oil
30cl spring rolls dipping sauce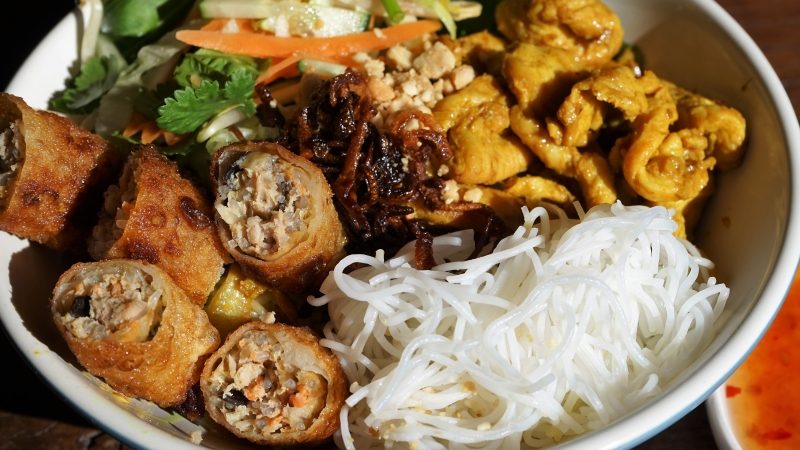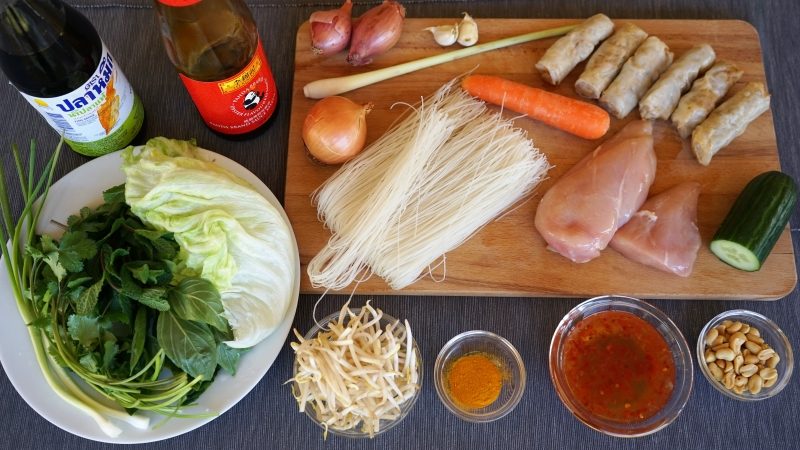 Ingredients
Share this recipe:
Watch the Recipe Video
Sautéed Chicken and Crispy Spring Rolls Noodle Salad - Morgane Recipes

© Copyright 2015- Cooking With Morgane - Bounnhing Boualavong. All rights reserved.