Tempura of Shrimp and Vegetables
The Haute Couture of deep fried dishes
Tempura is a light Japanese battered deep-fried dish. It emphasizes the taste of the ingredient inside the crust: shrimp, fish, meat or vegetable. The tempura does not look like any other deep fried ingredient, its crust is very thin and unseasoned, it is particularly light and crispy.
The tempura's preparation requires care and especially before cooking everything must be well in place on the worktop: the floured ingredients in the order of cooking, the cold batter - ideally on ice - and a rack to put the tempura once cooked. The heat shock between the very cold batter made with sparkling water and the hot oil - 160°C to 170°C (320°F to 335°F) - gives lightness to the crust. This crust cooks very quickly, the ingredient has almost no time to come into contact with the oil. The sparkling water can be replaced by beer.
Always cook the ingredients in the order of the longest cooking time first. Also we must avoid cooking a lot of pieces at the same time to prevent the temperature of the oil to drop. The other vegetables often cooked in tempura are okras, green beans, as well as thin slices of zucchini, potatoes and carrots. You can also replace shrimp with squid, slices of chicken breast or scallop. Enjoy immediately, the tempura suffers no waiting. Bon appétit.
Ingredients for 2 people
8 shrimps
100g sweet potato
100g lotus root
100g eggplant
250g wheat flour
A pinch salt
1 egg
30cl iced sparkling water
10cl water
1 tsp dashi stock
2 tbsp mirin
2 tbsp soy sauce
A pinch green tea powder
Frying oil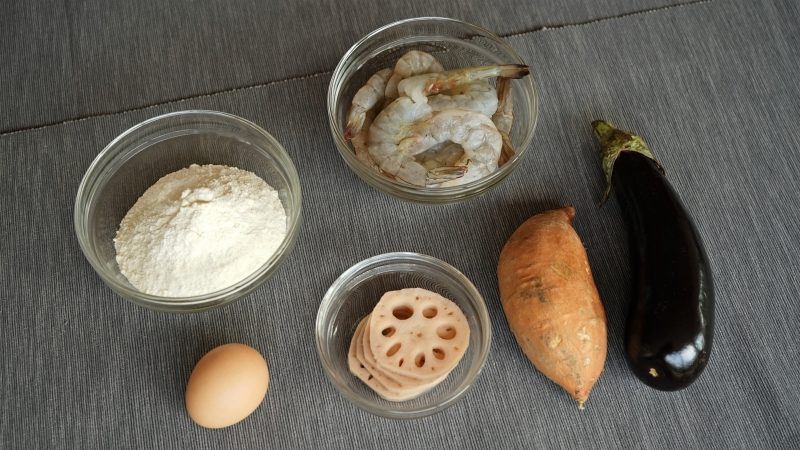 Tempura of shrimp and vegetables ingredients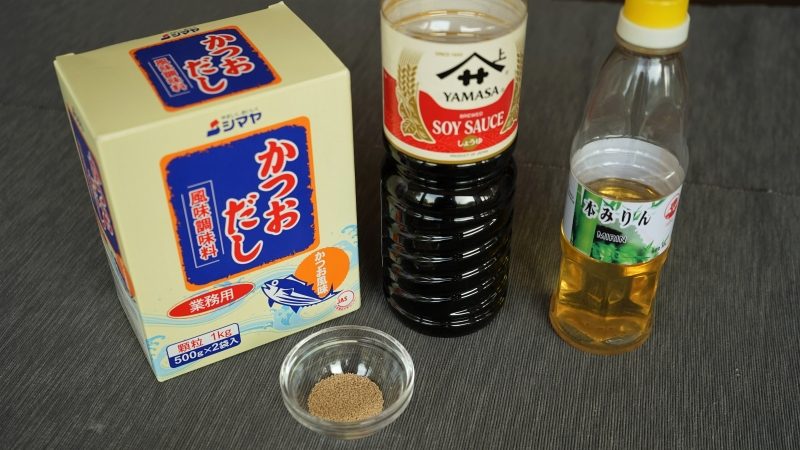 Tempura dipping sauce ingredients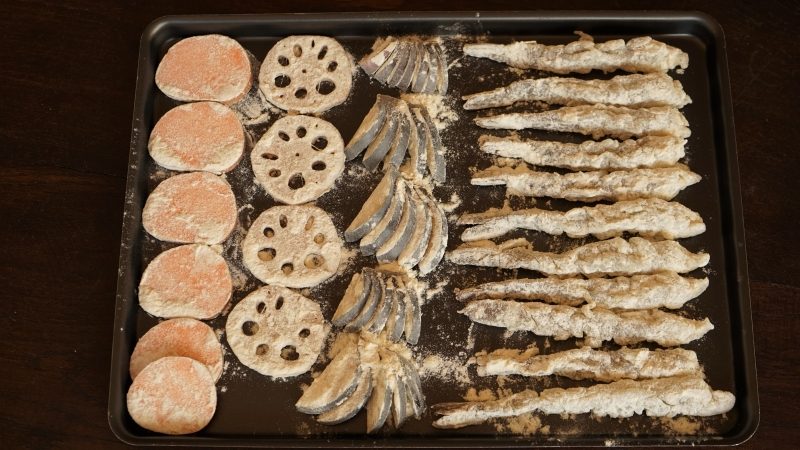 Tempura of shrimp and vegetables before frying
Share this recipe:
Watch the Recipe Video
Tempura of Shrimp and Vegetables - Morgane Recipes