Lemon Chicken - Chinese Style 檸檬雞
Three steps for a successfull dish: marinate, fry, sauté
Here is an easy-to-make Chinese dish. In many Chinese takeaway food shops this dish is not tasty and its texture is far from the one it should have if the dish would have been shortly prepared.
When you make the sauce, you will have to taste it and adjust it if necessary. You also have to find your own balance between acidity and sweetness. If it is too acid, add sugar, too sweet, add lemon, tou can also carefully adjust the salt.
For those who like spicy: before the final cooking, add sliced fresh chilli peppers or chilli paste directly in the sauce, then stir-fry. You will enjoy this dish just after cooking, when the fried chicken pieces are still crispy and the sauce unctuous. Serve with Thai fragrant rice. Bon appétit.
Ingredients for 4 people
Marinade
400g of chicken breasts
1 tsp of grated ginger
1 tsp of rice alcohol Shaoxing
1 tsp of sesame oil
1 egg white
1 tsp of salt
Ground pepper
Sauce
1 lemon juice
3 tbsp of sugar
1 tbsp of light soy sauce
100ml of chicken broth or water
1 tsp of grated ginger
½ tsp of salt
1 tsp of sesame oil
1 tsp of cornstarch
1 tbsp s of water
2 tbsp of oil
100g of cornstarch
Frying oil
½ tsp of sesame seeds
1 chive
2 slices of lemon for decoration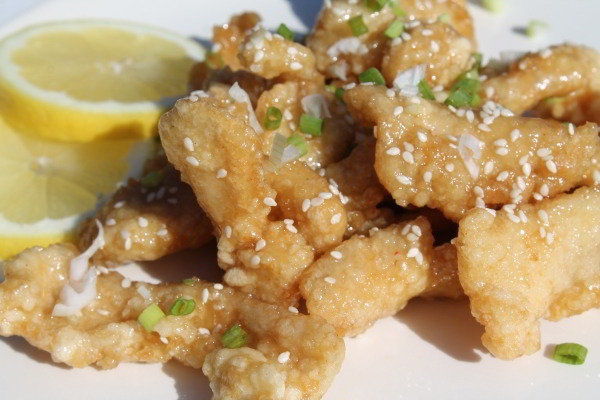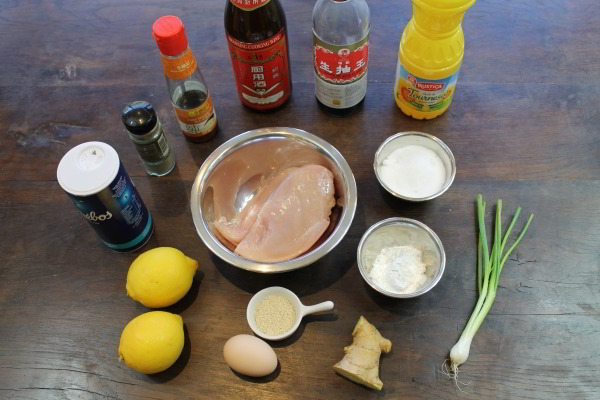 Ingredients
Share this recipe:
Watch the Recipe Video
Lemon Chicken - Chinese Style 檸檬雞 - Morgane Recipes