Chinese BBQ Pork CHAR SIU 叉燒
A Chinese rotisserie dish you can make at home
The Chinese BBQ Pork is also sometimes called 'red pork'. You will find it in Chinese rotisseries, if you never tasted it, you should try it as a fast food dish: ask for a portion of red pork with rice.
I show you the recipe without using any ready-to-use seasoning mix. To succeed this dish everything is important: the ingredients, the marinade, the cooking time. The choice of the piece of pork also determines the success: this dish requires a tender meat with a little fat, for example you can use pork loin or shoulder.
The fermented bean curd to use must be the
red
one, its taste is more intense and it will color the dish. You can double the dose and remove the red food coloring.
This dish is really delicious just after cooking, do not let it cool. You can enjoy it simply with Thai fragrant rice. It is also an ingredient in many other recipes: fresh noodles, Chineses buns, noodle soup, etc. For a picnic, put it in a sandwich with French baguette. Bon appétit.
Ingredients for 4 people
500g of pork meat
1 tbsp of rice alcohol Shaoxing
1 tsp of sesame oil
½ tsp of Chinese five spice powder
2 tbsp of Hoisin sauce
1 tbsp of light soy sauce
1 piece of red fermented bean curd and 1 tsp of its juice
1 clove of garlic
1 tsp of grated ginger
1 tbsp of sugar
½ tsp of salt
¼ tsp of ground pepper
Red food coloring (optional)
Glaze
1 tbsp of honey
1 tsp of sesame oil
1 tsp of water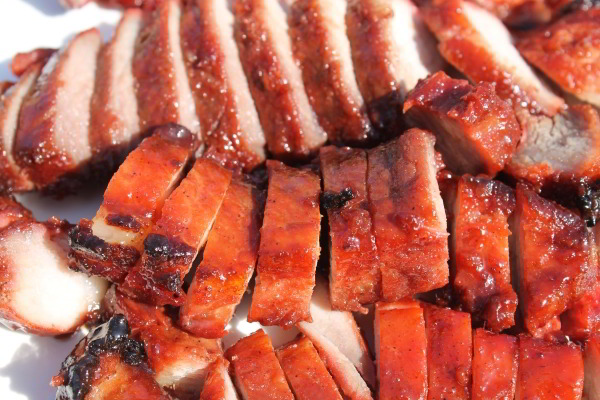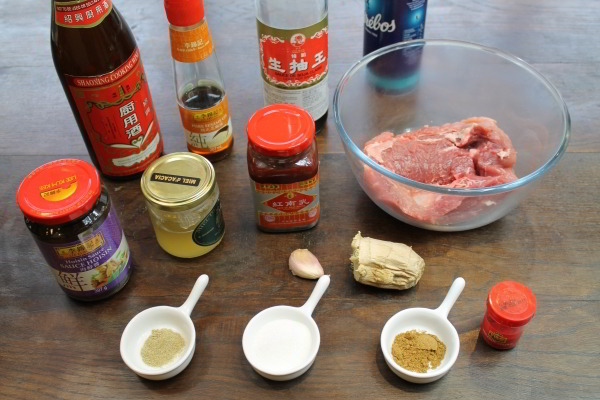 Ingredients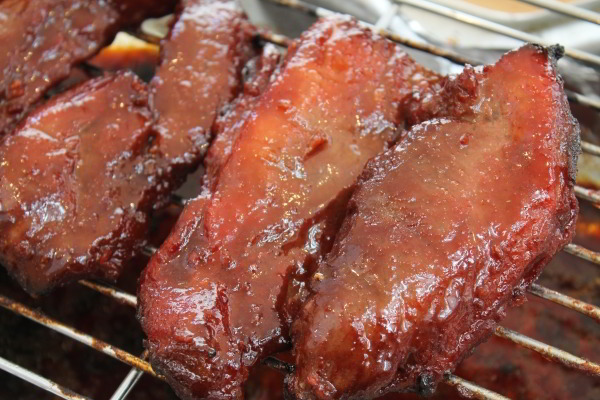 BBQ Pork CHAR SIU on the grill
Share this recipe:
Watch the Recipe Video
Chinese BBQ Pork CHAR SIU 叉燒 - Morgane Recipes