☰
Cooking with Morgane
Welcome
×
Vietnamese Spring Rolls 'GOI CUON'
It will be difficult to stop eating your homemade shrimp and pork belly spring rolls
The spring rolls are from Vietnam, there you can enjoy different kinds of recipes. The one I present here is 'Goi Cuon' the pork belly and shrimp spring rolls. It is easy to make at home.

Herbs are very important in this recipe, especially the garlic chives, they will perfume the rolls. Add more pieces of shrimp and/or pork if you want to make them more generous. Concerning the rice papers, there are many brands and qualities. To make the spring rolls, when I can compare in the store I like to choose the ones that are the most translucent and that contain cornstarch or tapioca starch. They will give a more elastic and soft texture.

I recommend you to make the Hoisin sauce with peanuts to accompany your rolls. A good idea would be to add some few drops of chili oil in it. If you prefer the nem sauce it will also be a perfect accompaniment.

The rolls do not keep very long because the rice papers will dry and the flavors decrease, it is better to eat them shortly after making. Bon appétit.
Ingredients for 8 Rolls
8 rice paper of 28cm
300g of pork belly
16 shrimps
8 leaves of salad
1 bunch of mint
1 bunch of coriander
4 garlic chives
½ cucumber
150g of rice vermicelli
Dipping sauce
5 tbsp of Hoisin sauce
2 tbsp of peanut paste (60g)
1 tbsp of oil
1 clove of garlic
1 tsp of sugar
100ml of broth
30g of roasted peanuts
2 fresh hot peppers (optional)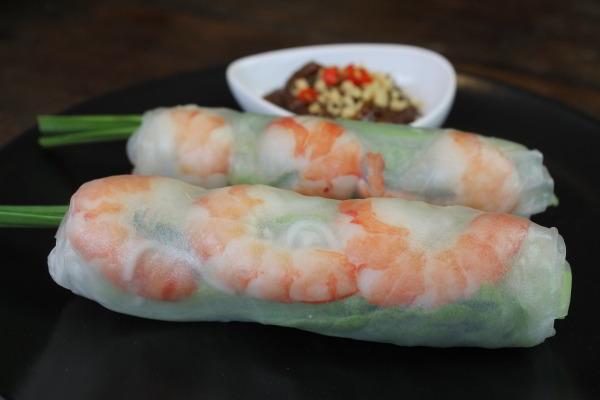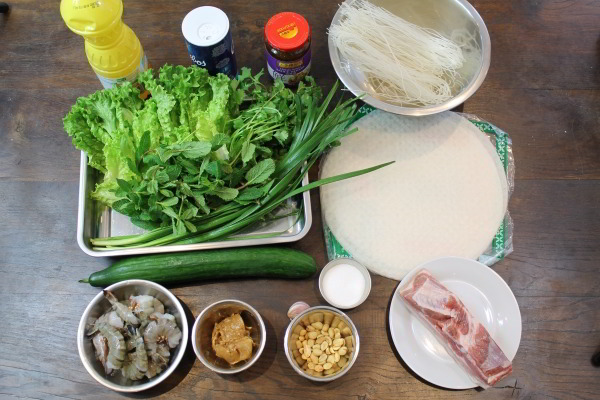 Ingredients
Share this recipe:
Watch the Recipe Video
Vietnamese Spring Rolls 'GOI CUON' - Morgane Recipes

© Copyright 2015- Cooking With Morgane - Bounnhing Boualavong. All rights reserved.