Breaded Pork Tonkatsu and Tonkatsu Sauce
Much appreciated by the Japanese, soon by you too!
Tonkatsu pork is a delicious Japanese breaded pork dish. The meat used can be boneless pork chop or filet mignon. The cooking is done in an oil bath. But it must be brief and at high temperature: 3 minutes per side at 170°C to 180°C (340°F to 355°F). This results in tender, juicy meat and in an appetizing golden brown crust. After cooking, do not lay the pieces of meat on paper towel, this will soften the delicious breaded crust, you must place them on a metal grid and serve them like this or put them on the plates just before eating.
The technique for the breading is simple: first the pieces of meat are soaked in flour, then in the beaten eggs, finally in the breadcrumbs. The latter is specific to some Japanese food: it is called 'panko' breadcrumbs. It is made up of larger pieces of bread than other kinds of breadcrumbs. Thus, during cooking, it is supposed to absorb less oil, which makes the dish less fatty, more digestible and very crispy. If you don't have 'panko' breadcrumbs, use traditional breadcrumbs.
Tonkatsu pork is eaten with rice, as well as with a cabbage salad that brings crunch and freshness. Sometimes the cabbage is not seasoned, however in my recipe I used a tasty vinaigrette made from rice vinegar, soy sauce and sesame oil.
The Tonkatsu sauce is essential and you can make it at home. It is sweet and sour, the apple makes it very flavorful and also brings acidity and sweetness. The Worcestershire sauce, of English origin, brings salty, as well as the umami flavor, because it is prepared from fermented anchovies, as well as a particular acidity, that of tamarind. You will enjoy this recipe for sure. Bon appétit.
Ingredients for 4 people
Tonkatsu pork
4 pork chops
Salt
Wheat flour
2 eggs
Panko breadcrumbs
Tonkatsu Sauce
½ apple
10cl water
1 tbsp Worcester sauce
3 tbsp ketchup
1 tbsp white rice vinegar
1 tbsp soy sauce
1 tbsp mirin
1 tbsp sugar
½ tsp grated ginger
½ garlic clove
Cabbage salad
300g white cabbage
1 tbsp white rice vinegar
1 tbsp soy sauce
3 tbsp vegetable oil
1 tsp sesame oil
Ground pepper
5g chives
Rice
400g short grain rice
44cl of water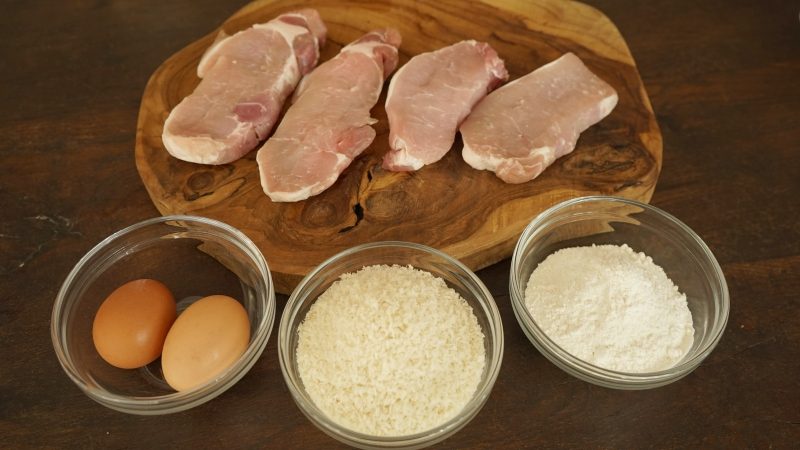 Tokatsu breaded pork ingredients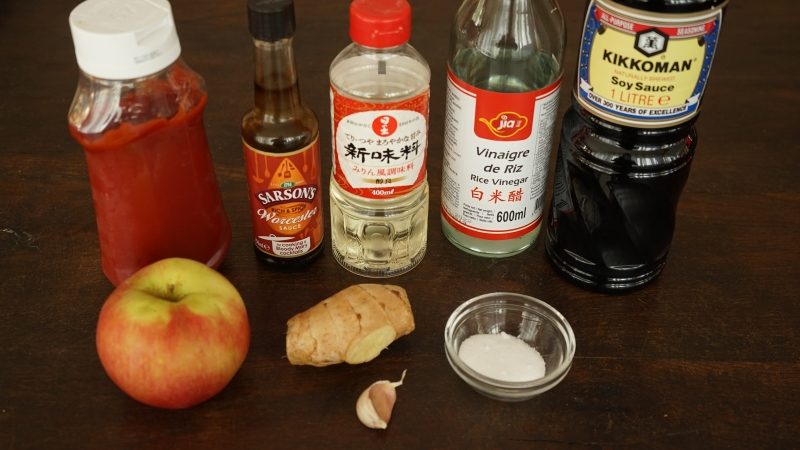 Tonkatsu sauce ingredients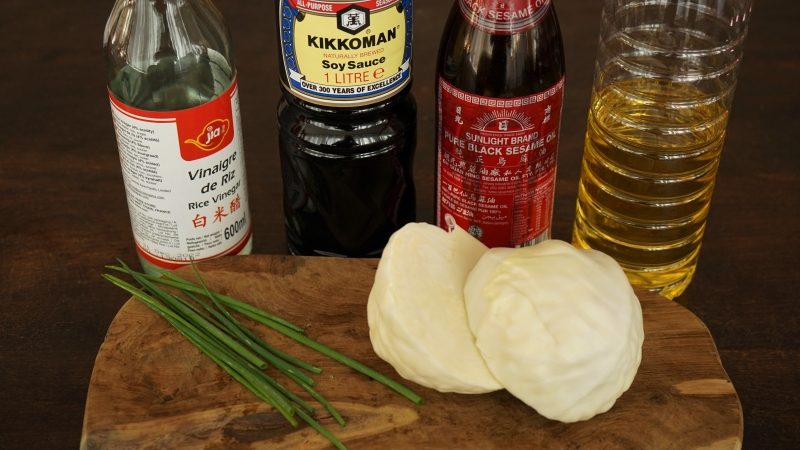 Cabbage salad ingredients
Share this recipe:
Watch the Recipe Video
Breaded Pork Tonkatsu and Tonkatsu Sauce - Morgane Recipes