☰
Cooking with Morgane
Welcome
×
Thai Soup Tom Yam with Chicken
Flavourful and intense in taste
Tom Yam soups are well known and much appreciated in Thailand, as well in Laos. They are sour, hot and salty. 'Tom' means to boil and 'Yam' is what we say when we mix the ingredients to make a spicy and tart salad. In Thailand, you can find a wide variety of these soups. The last word informs us about the ingredient that have been added: Tom Yam Kai is the chicken variant, Tom Yam Kung includes shrimp.

The soup intense taste comes from the tamarind, the lemongrass, the galangal, the chilli and the herbs. The Prik Pao jam is essential and it must be made at home. In case you buy it, it will be necessary to put less at the risk of having an unpalatable soup.

If you do not know it yet, try it, you will not forget it and you'll want to do it again and again. Enjoy with other dishes around, or simply with a bowl of Thai jasmine rice. Bon appétit.
Ingredients for 4 people
2 chicken legs
1 tsp salt
2 tbsp + 4 tsp fish sauce
3g kaffir leaves
1 lemongrass
4 galanga slices
1 shallot
1 dry hot chilli
Bird hot chilies (optional)
10 cherry tomatoes
100g straw mushrooms
10g cilantro
10g ngo gay (optional)
1 lime
15g tamarind paste
Prik Prao chili jam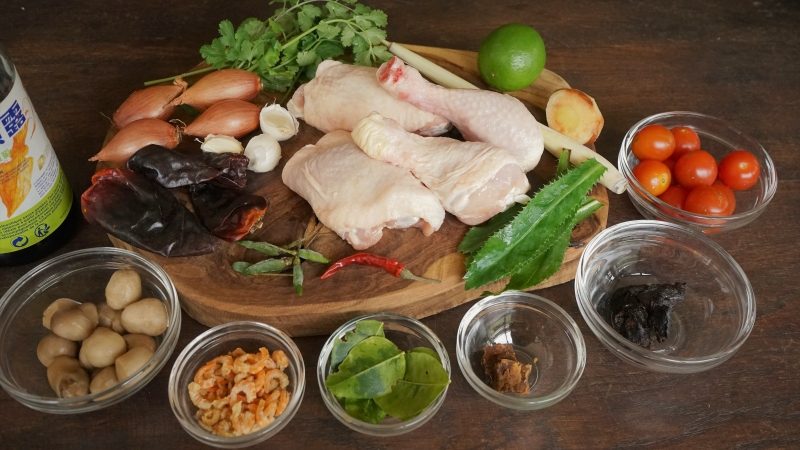 Ingredients
Share this recipe:
Watch the Recipe Video
Thai Soup Tom Yam with Chicken - Morgane Recipes

© Copyright 2015- Cooking With Morgane - Bounnhing Boualavong. All rights reserved.