☰
Cooking with Morgane
Welcome
×
Street Food Pad Thai
The best Thai street food dish at home
Pad Thai is the most popular stir fried rice pasta dish in Thailand. Many street food shops offer it, they have all their utensils and ingredients on a trolley, the scent from the cooking is irresistible. This dish is typical of the Thai cuisine where a lot of small cut ingredients bring their scent: fried tofu, dried shrimps, salted radishes, crushed peanuts. While tasting it, one sometimes comes to wonder how it was made and what makes its specific taste. In the preparation we must also find a balance between the sweetness, the salt and the acidity of the tamarind.

Each guest add a few drops of lemon and mix on their plate the garlic leaves, the bean sprouts, the crushed peanuts with the other ingredients. Bon appétit.
Ingredients for 2 people
200g dehydrated rice noodles
20g palm sugar
20g white sugar
25g tamarind paste
3 tbsp fish sauce
100g Chinese chives
200g bean sprouts
70g shallots
2 eggs
100g firm tofu
20g small dried prawns
10g shredded salted white radish
3g roasted chili powder
30g roasted peanuts
½ lime
2 tablespoons vegetable oil
Frying oil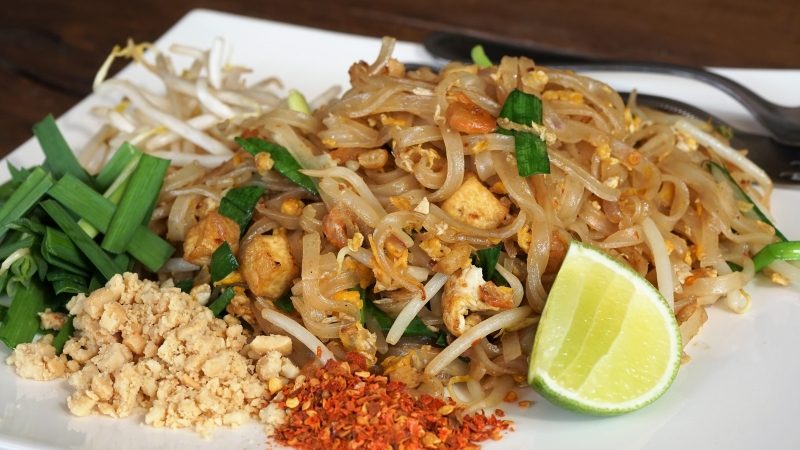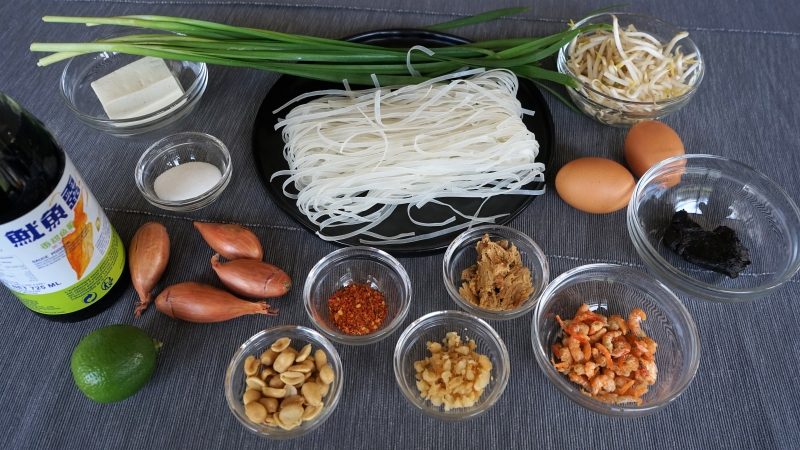 Ingredients
Share this recipe:
Watch the Recipe Video
Street Food Pad Thai - Morgane Recipes

© Copyright 2015- Cooking With Morgane - Bounnhing Boualavong. All rights reserved.