☰
Cooking with Morgane
Welcome
×
Steamed Chinese Chicken Fish and Pork Balls
Healthy and tasty recipe
This is an old Chinese dish called 青檜綉球 (qīng guì tòuqiú) which means hydrangea flowers. These meatballs a little larger than other kinds contain chicken, pork, fish and shiitake mushrooms, this flourishing mixture has probably reminded cooks of hydrangea flowers. It is a very low fat dish and it keeps the flavors of vegetables steamed with the meatballs.

Many vegetables must be integrated as long as they handle steam cooking during 20 minutes: mushrooms, leeks, bamboo shoots, asparagus... I add in the recipe some dried lily flowers, once cooked they resemble mushrooms, they are sold dehydrated in Asian grocery stores, they are yellow daylily flowers.

Eat this dish with Thai fragrant rice and may be a dipping sauce made from chilli puree or light soy sauce with a few drops of sesame oil. Bon appétit.
Ingredients for 4 people
Meatballs
200g pork
200g chicken thighs
200g fish fillet
1 tsp salt
Ground pepper
1 tsp sugar
1 tsp Shaoxing cooking wine
1 tbsp sesame oil
1 tbsp cornstarch
1 egg white
Vegetables and sauce
8 shiitake mushrooms
20g wood ear mushrooms
30g dried lily flowers
5 slices of ginger
½ pepper
1 spring onion
5g cilantro
½ tsp salt
Ground pepper
1 tsp Shaoxing cooking wine
1 tbsp vegetable oil
1 tbsp dark soy sauce
2 tbsp oyster sauce
1 tsp cornstarch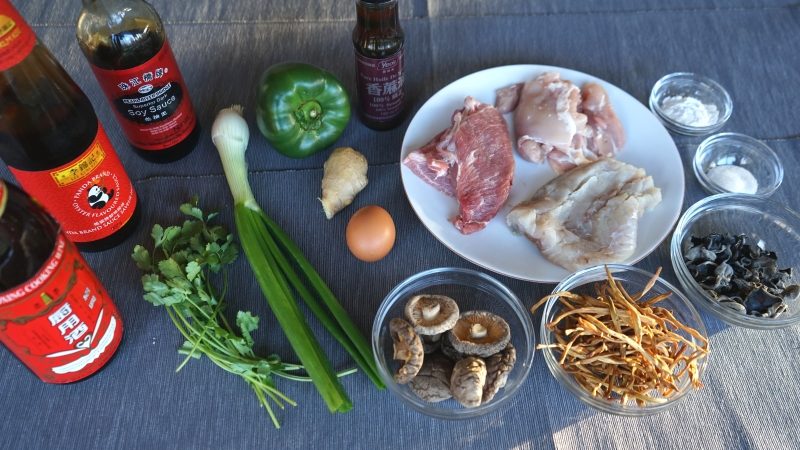 Ingredients
Share this recipe:
Watch the Recipe Video
Steamed Chinese Chicken Fish and Pork Balls - Morgane Recipes

© Copyright 2015- Cooking With Morgane - Bounnhing Boualavong. All rights reserved.