☰
Cooking with Morgane
Welcome
×
Lao Bamboo Shoot Salad
'Soup Nor Mai' ສຸບໜໍ່ໄມ້
A dish with a delicious special taste and which highlights vegetables
This unique recipe is typically Laotian. Contrary to what the Laotian name seems to indicate, it is not a soup but a salad. We can enjoy it warm or lukewarm and sometimes cold. The special taste of the dish comes from the mixture of yanang leaves, padek, phak ka gnen and sesame seeds.

In Laos, it is a dish that we often buy at the market in the morning, back home we enjoy it as a breakfast with sticky rice. Some lovers accompany each bite of this bamboo salad with a small piece of hot chilli pepper, others envelope each spoonful in a leaf of salad with coriander and chives.

It needs a little patience to get a good Soup Nor May, especially be careful to cook over low heat and stir often. Bon appétit.
Ingredients for 8 people
800g of long bamboo shoots
50g of yanang leaves
60g of sticky rice
50g of sesame seeds
50g of phak ka gnen
300g of shallots
4 lemongrass stems
10g of galangal
7 leaves of lime
5 red peppers
5 tbsp of padek
1 tbsp fish sauce
1 tsp of salt
5 ngo gai
2 chives
1 liter of water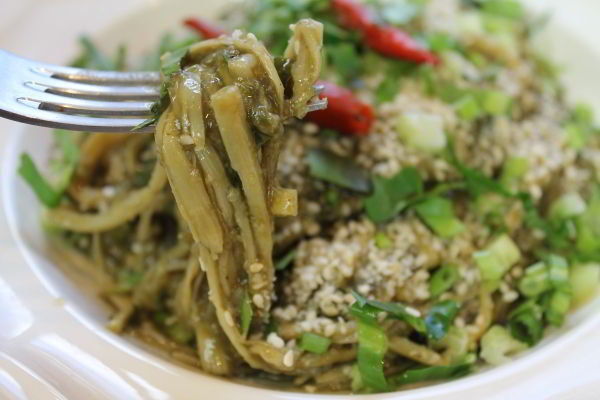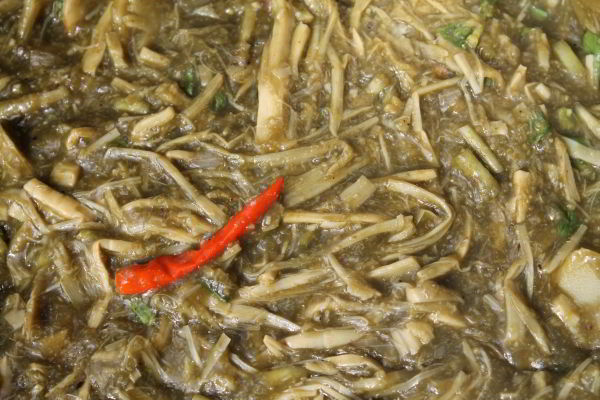 Share this recipe:
Watch the Recipe Video
Lao Bamboo Shoot Salad - 'Soup Nor Mai' ສຸບໜໍ່ໄມ້ - Morgane Recipes

© Copyright 2015- Cooking With Morgane - Bounnhing Boualavong. All rights reserved.