☰
Cooking with Morgane
Welcome
×
Salt and Pepper Chicken
The magic comes from the pepper, the salt and the garlic
Here is the recipe of a great classic from the Chinese gastronomy. It does not always require typically Asian ingredients, so it is quite easy to make at home. The Shaoxing rice alcohol is optional, but I highly recommend it as it brings a delicious flavor to the dish. Do not be surprised by the quantity of ground pepper needed, it is essential to obtain the taste of 'sauté with salt and pepper', your dish will not be hot and the children will love it.

I chose chicken thighs, because it is a meat that tolerates well frying and remains tender. When I plunge them into the oil, the temperature must be close to 170°C - 340°F (then it naturally falls), this is important to have crispy chicken pieces.

Salt and pepper dishes always contain a good portion of garlic. It is indispensable. Be very careful when frying it, there is a critical moment when it can pass very quickly from golden brown to burned. Just before that moment, you will add the other vegetables: onion, pepper and chives. For some people, it is necessary to add some sliced fresh chilli peppers. Bon appétit.
Ingredients for 3 to 4 people
500g of chicken thighs
½ tsp of salt
1 tsp of Shaoxing Rice Alcohol (optional)
2 tbsp of cornstarch
1 egg white
1 onion
4 garlic cloves
¼ red pepper
1 chive
½ tsp of salt
½ tsp of ground pepper
4 tbsp of oil
Oil for frying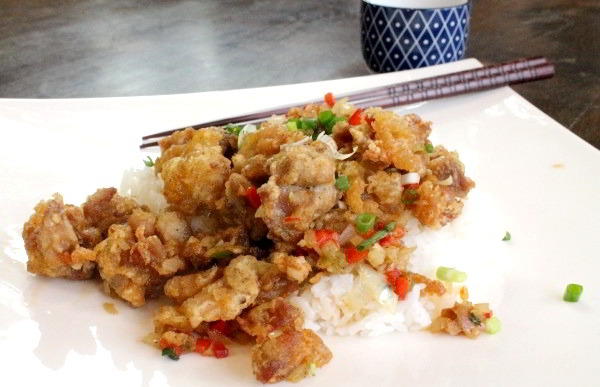 Ingredients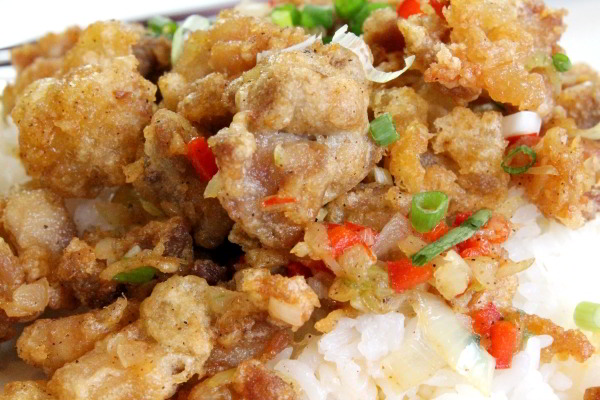 Share this recipe:
Watch the Recipe Video
Salt and Pepper Chicken - Morgane Recipes

© Copyright 2015- Cooking With Morgane - Bounnhing Boualavong. All rights reserved.