☰
Cooking with Morgane
Welcome
×
Grilled Beef in Piper Lolot Leaves
'Bo La Lot'
Discover the unique fragrance of the piper lolot leaves
This is a great recipe from Vietnam. It can remind some of the stuffed vine leaves dishes from the South of Europe or from the Middle East. The idea is simple: marinated beef is rolled in piper-lolot leaves, these small rolls are then grilled on the barbecue.

Piper lolot leaves are often used in Vietnam and Laos to wrap meat. In Vietnam it is called lá lốt, in Laos 'phak ee lert', in Thailand 'chaphloo'. These leaves have a particular scent that goes very well with grilled beef. They are thick and resistant, so they will not burn quickly on the grill.

You can eat your skewers simply with Thai fragrant rice or glutinous rice, but I advise you to enrich your dish by adding rice leaves, vermicelli, herbs, gherkins and carrots pickles. With all these ingredients you will make some small and well-filled rolls that you will enjoy with a spring roll sauce. Bon appétit.
Ingredients for 4 people
600g tender beef
2 lemongrass
20g garlic cloves
2 tsp sugar
½ tsp salt
1 tsp Hoisin sauce
2 tbsp fish sauce
1 tbsp oyster sauce
5 tbsp vegetable oil
Ground pepper
1 tbsp white rice vinegar
50g roasted peanuts
50g spring onion
100g piper lolot leaves
150g rice noodles
250g rice paper
1 carrot
8 gherkins
50g cilantro
10 mint sprigs
30cl spring roll dipping sauce
Bamboo skewers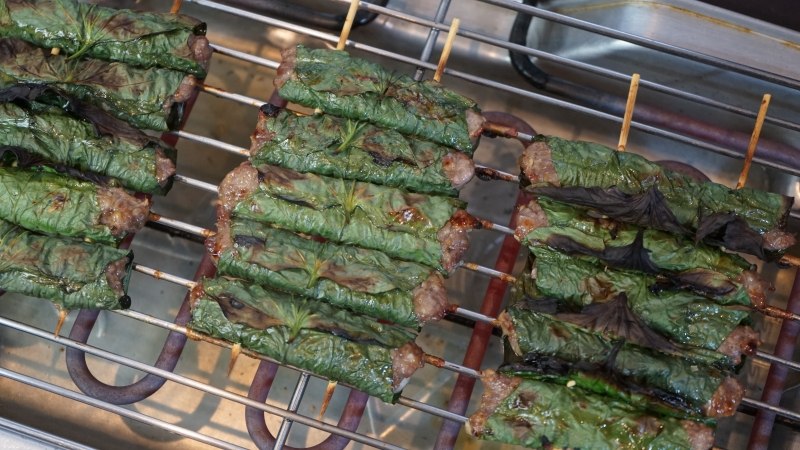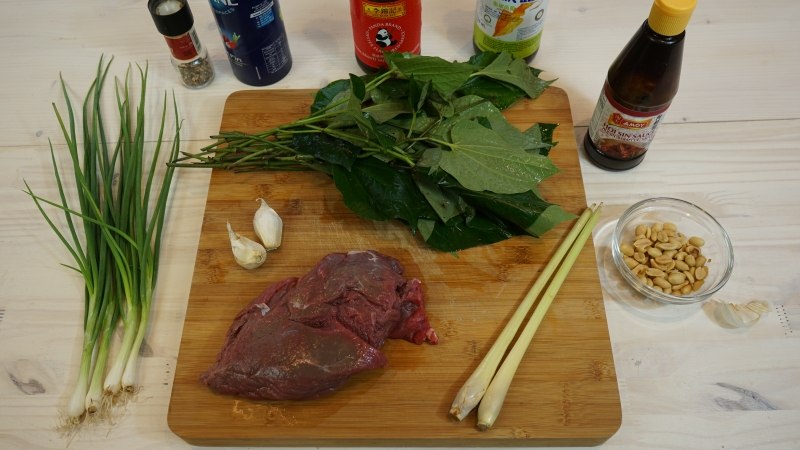 Grilled Beef in Piper Lolot Leaves 'Bo La Lot' Ingredients
Piper Lolot Leaves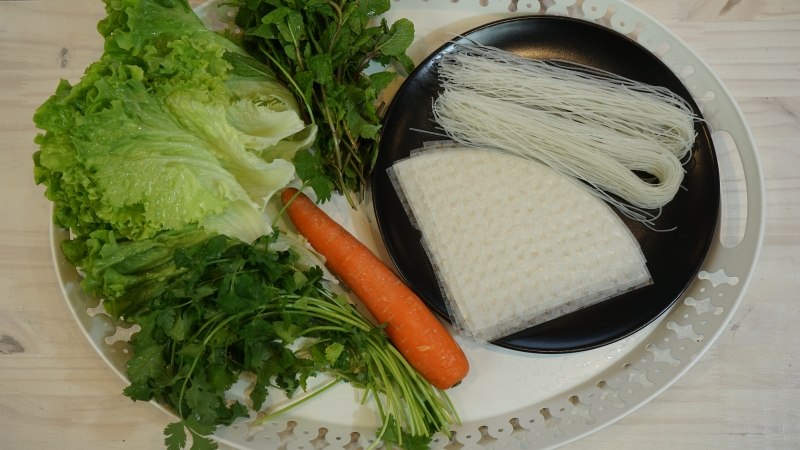 Ingredients to eat with 'Bo La Lot'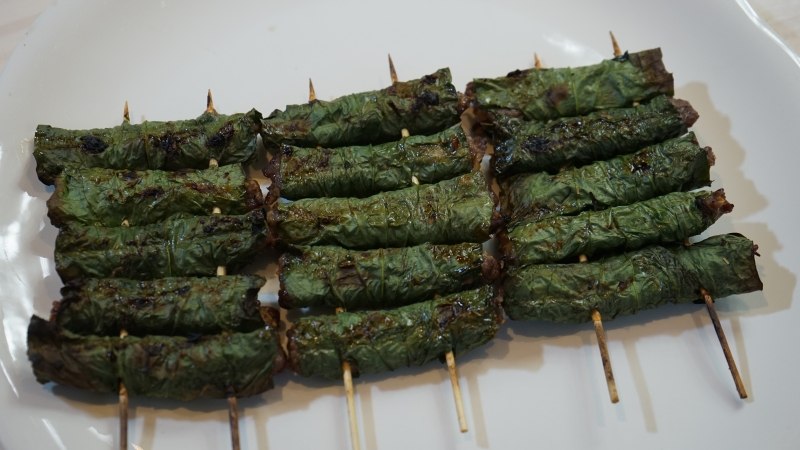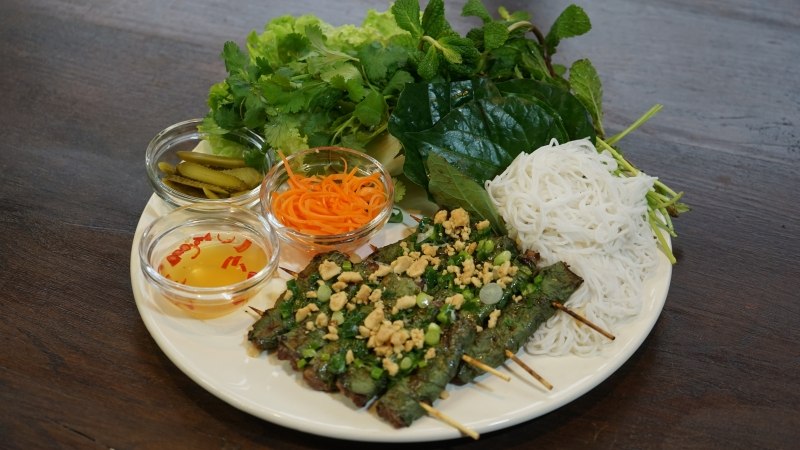 Traditional Vietnamese Bo La Lot dish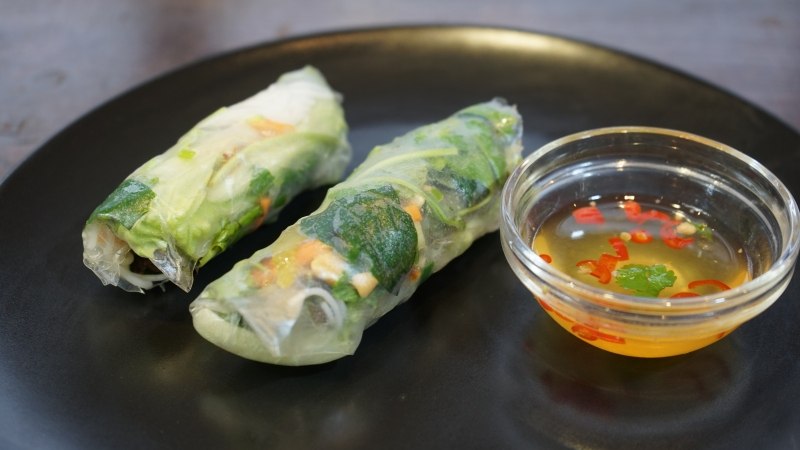 'Bo La Lot' Roll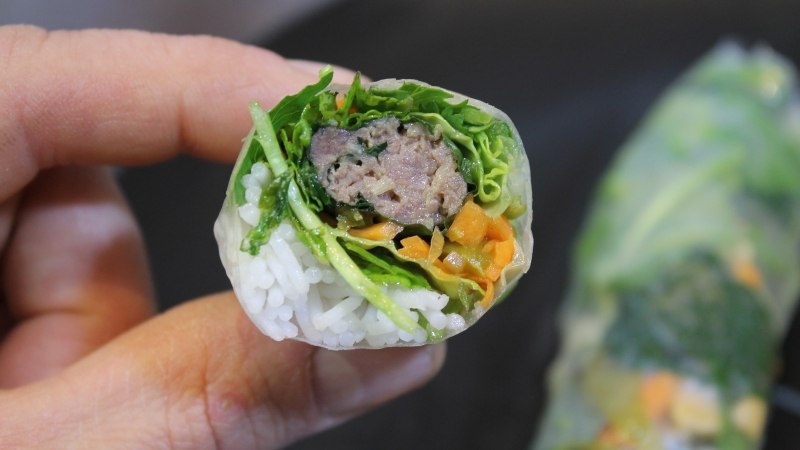 Grilled Beef in Piper Lolot Leaves 'Bo La Lot'
Share this recipe:
Watch the Recipe Video
Grilled Beef in Piper Lolot Leaves - 'Bo La Lot' - Morgane Recipes

© Copyright 2015- Cooking With Morgane - Bounnhing Boualavong. All rights reserved.