Découvrez cette recette en français
Thai Green Curry Paste
พริกแกงเขียวหวาน
A base for many dishes in Thailand
As for the Thai Red Curry Paste, there are many benefits to make your own Thai Green Curry Paste: the flavors are incomparable, you know the ingredients that compose it and you can moderate the spiciness according to your taste. Those you can buy are often too spicy, it may dissuade you to use the correct dose, as a result the dishes will be either bland or too spicy.
You can stored it the refrigerator for several weeks.
Bon appétit.
Watch the Recipe Video
Share this recipe:
Ingredients for 150g of green curry paste
2 lemongrass
zest of a ½ kaffir lime
15g galangal
4 cilantro roots (optional)
5g krachai
3g turmeric
3g coriander seeds
½ tsp ground cumin seeds
2 Thai green chilies
½ green chili
50g shallots
30g garlic
½ tsp shrimp paste
½ tsp salt
Green Curry Paste Ingredients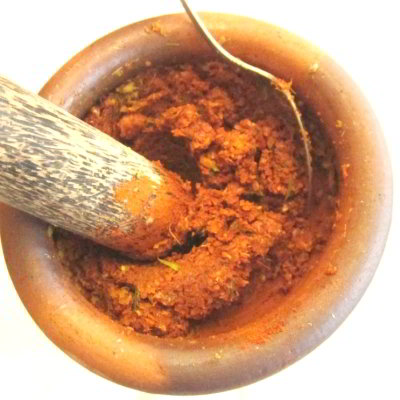 Thai Red Curry Paste
น้ำพริกแกงเผ็ด
Another base ingredient for many dishes
Go to the recipe
© Copyright 2015- Cooking With Morgane - Bounnhing Boualavong. All rights reserved.