☰
Cooking with Morgane
Welcome
×
Fish & Chips with Tartar Sauce
London Fast food Way
In England, fish & chips is a cheap and easy-to-find dish. It can also be delicious made at home. A battered fish filet is accompanied by large fries and often a tartar sauce. A good dash of malt vinegar on the fries will bring a welcome acidity.

This simplicity hides some know-how cooking techniques. You have to choose white fish fillets, the cod, the black or yellow place or the haddock are perfect. When it is made with beer the batter gains a very nice scent and lightness. Because the English chips are larger than French fries, a good cooking technique is to first cook them in simmering water for 10 minutes, in the end they will be tender and crispy after frying.

A homemade tartar sauce is essential to enjoy this dish with great pleasure. Homemade fish & chips to be consumed with moderation, but so delicious! Bon appétit.
Ingredients for 2 people
450g cod fish fillet
Wheat flour
1kg potatoes
Oil for frying
Batter
50g rice flour
100g wheat flour
¼ tsp baking powder
¼ tsp turmeric powder
½ tsp teaspoon sugar
½ tsp salt
Ground pepper
20cl beer or sparkling water
Tartar sauce
1 egg yolk
1 tbsp mustard
20cl vegetable oil
1 shallot
7g parsley
2 tsp capers
2 pickled gherkins
1 lemon zest
1 tsp lemon juice
1 pinch of salt
Ground pepper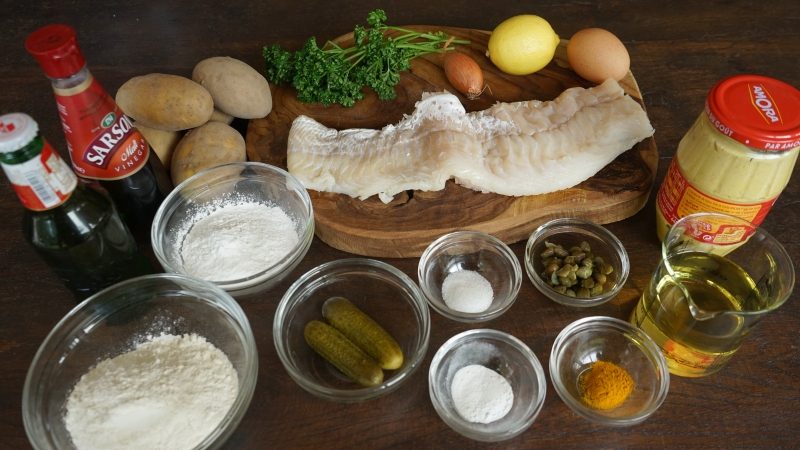 Ingredients
Share this recipe:
Watch the Recipe Video
Fish & Chips with Tartar Sauce - Morgane Recipes

© Copyright 2015- Cooking With Morgane - Bounnhing Boualavong. All rights reserved.