☰
Cooking with Morgane
Welcome
×
Fast Food Chicken Nuggets
So easy to make and so much better
Chicken nuggets a success when their crust is golden, fine, crispy and the chicken is tender, not dry, well-seasoned. The chicken breasts must be coarsely chopped, if we chop them too finely, we would not find the feeling of eating chicken and we would instead have chicken meatballs. The white bread mixed with the chicken flesh is important: it gives us a tender, soft final texture, moreover, it helps to bind the whole. The starch mixed with the ground chicken also serves as a binder while avoiding obtaining dry nuggets after cooking.

After many attempts, I propose you to get a nice crust by mixing equal parts of wheat flour and cornstarch. Wheat flour gives consistency. The starch makes it crispy. The small quantity of baking powder is not there to swell the dough but just to air it, not too much, just enough to increase the crispness. The two frying stages also provide a better crisp.

In the food industry, chicken muscles often count for less than half of the ingredients in nuggets, so enjoy these delicious homemade nuggets, you know for sure what ingredients they contain.
Ingredients for about 28 nuggets
500g chicken breast
3 slices white bread
2 garlic cloves
1 tsp grated ginger
1 tbsp cornstarch
1 tsp salt
¼ tsp ground pepper
1 tbsp vegetable oil
50g wheat flour
Oil for frying
Batter
50g wheat flour
50g cornstarch
¼ tsp baking powder
½ tsp salt
A pinch turmeric powder
A pinch ground pepper
15cl water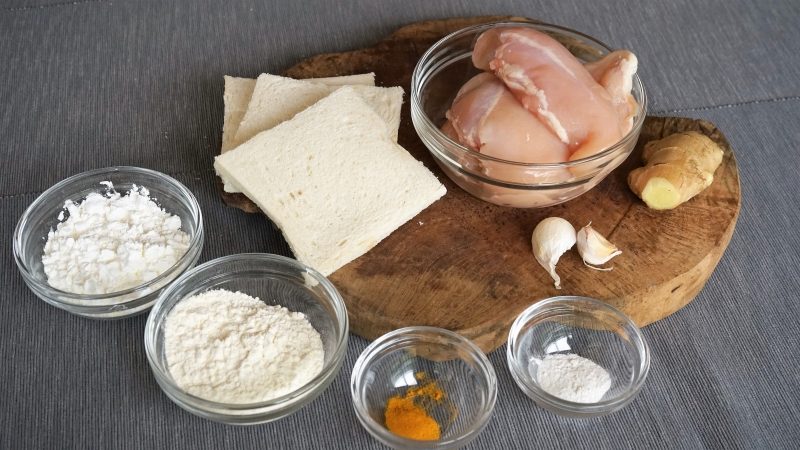 Ingredients
Share this recipe:
Watch the Recipe Video
Fast Food Chicken Nuggets - Morgane Recipes

© Copyright 2015- Cooking With Morgane - Bounnhing Boualavong. All rights reserved.