☰
Cooking with Morgane
Welcome
×
Chicken and Choy Sum with Hot Sauce
This dish is aptly named in Chinese 口水鸡 : 'mouth-watering chicken'
The sauce makes this chicken and choy-sum recipe so appetizing. It combines the scents of Sichuan pepper and chilies in an unforgettable way, so that the dish has been given this rather surprising name 口水鸡 (kǒushuǐ jī) that could be translated as 'mouth-watering chicken'.

The type of pepper and the amount you use will of course depend on your attraction to spiciness: sweet, strong, hot, very hot. Espelette chili peppers can be a good choice. The chili peppers must be dried and crushed or flaked. Passing them in the hot oil will gives them a very nice grilled aroma.

Maltose allows for a thicker, syrupy sauce that stays on the chicken and on the choy-sum. You can also use glucose or granulated sugar instead. Enjoy with Thai Jasmin rice. Bon appétit.
Ingredients for 2 people
350g chicken thighs
500g Choy Sum vegetables
1 tbsp crushed dry chilis (sweet or hot)
1 tsp Sichuan pepper
1 tsp paprika powder
A pinch ground pepper
1 tsp maltose or glucose
2 x ¼ and 1 tsp salt
1 tsp grated ginger
1 small garlic clove
Some drops sesame oil
2 tbsp light soy sauce
1 tbsp black rice vinegar
5g cilantro
5 tbsp vegetable oil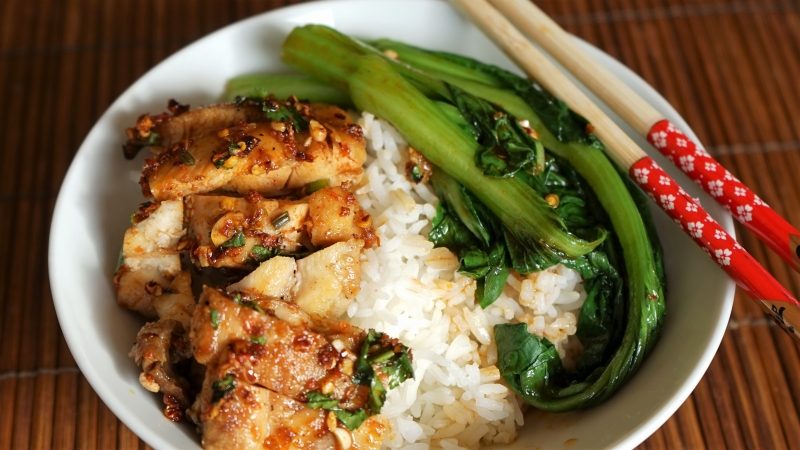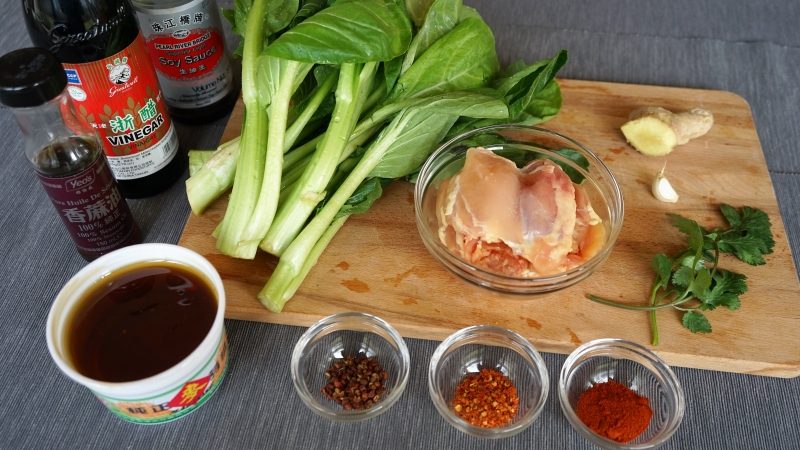 Ingredients
Share this recipe:
Watch the Recipe Video
Chicken and Choy Sum with Hot Sauce - Morgane Recipes

© Copyright 2015- Cooking With Morgane - Bounnhing Boualavong. All rights reserved.