☰
Cooking with Morgane
Welcome
×
Traditional Cantonese Fried Rice
This simple, fast and delicious Chinese dish is a complete meal
This is a great classic of the Chinese cuisine: 炒飯 'CHAO FAN', literally 'stir fried rice'. At home, we like it as a complete meal quickly done when there is rice some rice leftover and we lack time to make something more sophisticated. It can also accompany a meat and/or a soup.

At most of the Chinese takeaway shops, you cannot really find a true Cantonese rice, it is rather just a mixture of ingredients with rice. Real Chinese cooks stir-fry the ingredients in a wok on very high heat. The latter is the essential element which gives the taste to the dish, without it, you will not taste a real Cantonese rice. There are few ingredients, few condiments or sauces, the high heat is very important. Bon appétit.
Ingredients for 4 people
400g Jasmin rice
2 dried Chinese sausages (Lap Chong)
150g pork belly
2 carrots
100g green peas
2 shiitake mushrooms
1 onion
2 eggs
3 spring onion
5g cilantro
Ground pepper
A pinch + 1 tsp salt
1 tbsp light soy sauce
1 tbsp vegetable oil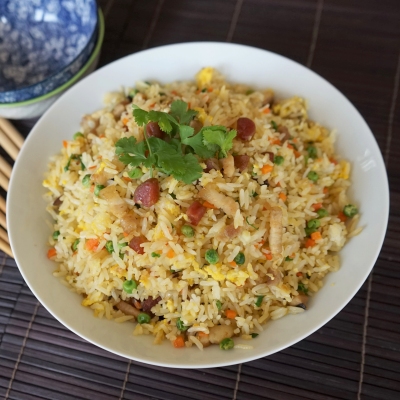 Share this recipe:
Watch the Recipe Video
Traditional Cantonese Fried Rice - Morgane Recipes

© Copyright 2015- Cooking With Morgane - Bounnhing Boualavong. All rights reserved.