☰
Cooking with Morgane
Welcome
×
Beef Bowl Gyudon
牛 丼
Easy to make and very low in fat
Gyudon is an old Japanese dish, its origin dates back to the 19th century. At that time the commonly consumed beef was harder and had to be simmered for a long time. Nowadays, we will use tender, quality beef that we cook in the broth, but for much less time. The dish is low in fat, we do not add oil during cooking, but a little beef fat, it will bring a superb flavor. The dish will be umami rich thanks to three ingredients: Kombu seaweed, bonito dashi and soy sauce.
To successfully cook the short grain rice without a rice cooker, you can watch my video about 'Grilled Mackerel Sushi with Teriyaki Sauce'. For the kombu seaweed broth, pay attention to the temperature: turn off the heat when the water reaches 60°C (140°F) – when tiny bubbles cover the bottom of the pan. Then let infuse. This broth is excellent and used in many dishes.
In Japanese cooking, we like low heat, so as not to maltreat the ingredients too much. The soy sauce (Kikkoman) should be added at the very end of cooking to help preserving its taste. Bon appétit.

Ingredients for 4 people
600g beef (rib steak, tenderloin)
500g short grain rice
2 cups water
3g kombu seaweed
1 cup water
2 onions
1 tbsp grated ginger
½ tbsp bonito dashi powder
1 pinch salt
1 tbsp sugar
3 tbsp mirin
3 tbsp Kikkoman soy sauce
4 eggs
¼ cup white vinegar
1 spring onion
Gari ginger
Shichimi powder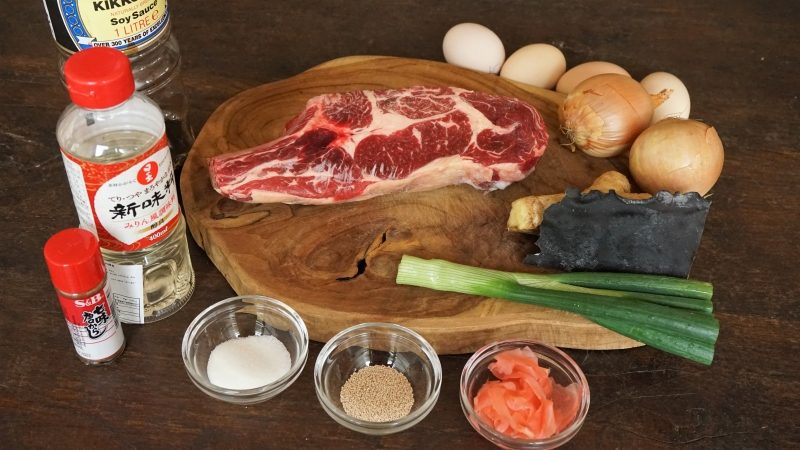 Beef Bowl Gyudon, 牛 丼 - Ingredients
Watch the Recipe Video
Beef Bowl Gyudon - 牛 丼 - Morgane Recipes

Cookies
© Copyright 2015- Cooking With Morgane. All rights reserved.