Cantonese Stir Fried Rice
A simple, fast and delicious Chinese dish
This is a great classic of the Chinese cuisine: 炒飯 'CHAO FAN', literally 'stir fried rice'. At home, we like it as a main dish quickly done when there is rice some rice leftover and we lack time to make something more sophisticated. But it can also accompany a meat and/or a soup.
At most of the Chinese takeaway shops, you cannot really find a true Cantonese rice, it is rather just a mixture of ingredients with rice. Real Chinese cooks stir-fry the ingredients in a wok on very high heat. The latter is the essential element which gives the taste to the dish, without it, you will not taste a real Cantonese rice. There are few ingredients, few condiments or sauces, the high heat is very important.
You can add pieces of Chinese sausages called lap cheong 臘腸, or even shrimp. Bon appétit.
Ingredients for 4 people
400g of Thai fragrant rice
200g of pork belly
3 eggs
1 onion
1 carrot
100g of frozen green peas
1 bunch of chives
1 tbsp of soy sauce
½ tsp of salt
Ground pepper
3 tbsp of oil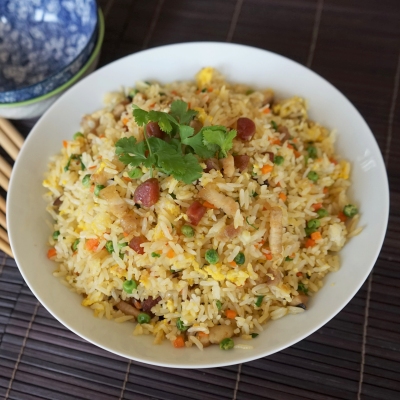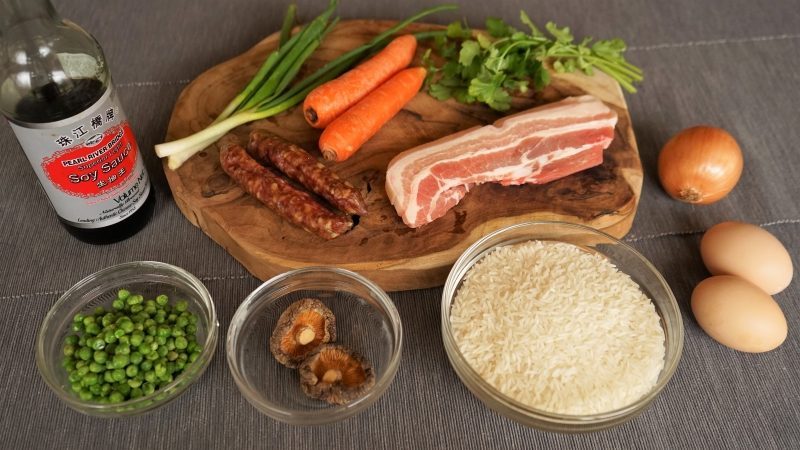 Ingredients
Share this recipe:
Watch the Recipe Video
Cantonese Stir Fried Rice - Morgane Recipes