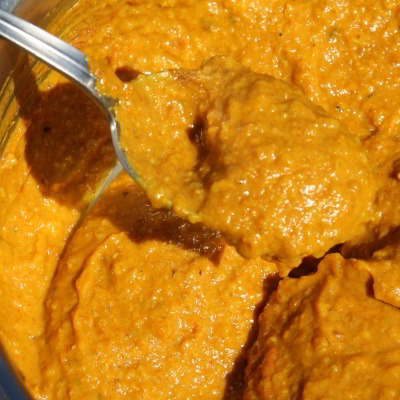 The Thai version of this sauce is the ideal accompaniment to your skewers
Here is my Thai version of the Satay sauce, it has its origin in Malaysia and Indonesia. In Thailand you will always have this sauce with the Mou Satay Skewers. You can also enjoy it with any grilled meat, with fresh crispy vegetables or toasted bread as well.
One of the ingredient in this sauce is the red curry paste. My homemade red curry paste contains shrimp paste, if you are not used to its powerful fragrance, you can make this recipe without any shrimp paste.
This Satay sauce can be stored for up to three days in the refrigerator. If you do too much, you can freeze it. The amateurs will add some hot chilli powder or fresh sliced chili peppers.
Bon appétit.
Ingredients for 4 people
120g of roasted peanuts
1 tbsp of red curry paste
200ml of coconut milk
50g of tamarind paste
200ml of boiling water
50g of palm sugar or white sugar
½ tsp of salt
1 tsp of coriander powder
1 tsp of turmeric powder
¼ tsp of cumin powder
1 tbsp of oil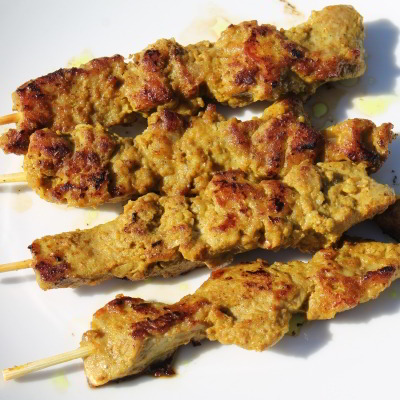 Mou Satay - Thai-Style Grilled Pork Skewers
หมูสะเต๊ะ
The Thai version of a great Indonesian dish
Go to the recipe
&copy Copyright 2015- Cooking With Morgane - Bounnhing Boualavong. All rights reserved.