☰
Cooking with Morgane
Welcome
×
Peking Duck Breast
An easy adaptation of the Chinese cuisine symbol dish
Making a Peking duck at home can be quite complex and time-consuming, I suggest you to cook a duck breast in a simplified Peking duck way. The traditional lacquered duck has a very savory flesh thanks to the spices and sauces used, but it must also have an inviting crisp and golden skin. That's why in this recipe we will take care of the skin and the flesh separately.

The first cooking in the pan grills the flesh and develops the flavors of the marinade. The following baking in the oven will continue to reveal all the flavors while browning the skin. During the preparation, pay particular attention that the maltose sauce used for the skin does not come into contact with the flesh.

You will be able to taste your duck breast as it is or as the first course of the traditional Peking duck meal: in slices rolled in thin pancakes made of wheat flour, with chives, cucumber and sauce Hoisin. Traditionally only the skin of the duck is incorporated in these pancakes, but here, you should try with slices of duck breast including skin and flesh, it's a treat. You can make these pancakes at home or otherwise find them in Asian grocery stores (mostly frozen) or in some rotisseries. Baking for 20 minutes in the oven will give you a medium doneness flesh, if you prefer rosy perfection leave it only 15 minutes. Bon appétit.
Ingredients for 2 people
500g duck breast
1 tsp 5 spice powder
¼ tsp ground pepper
1 tsp salt
½ tsp ginger powder
½ tsp garlic powder
1 tbsp Hoisin sauce
3g star anise
1 bay leaf
20g maltose
1 tbsp white rice vinegar
1 tbsp vegetable oil
Side dishes
Chinese steamed pancakes for Peking duck
½ cucumber
4 spring onions
Hoisin sauce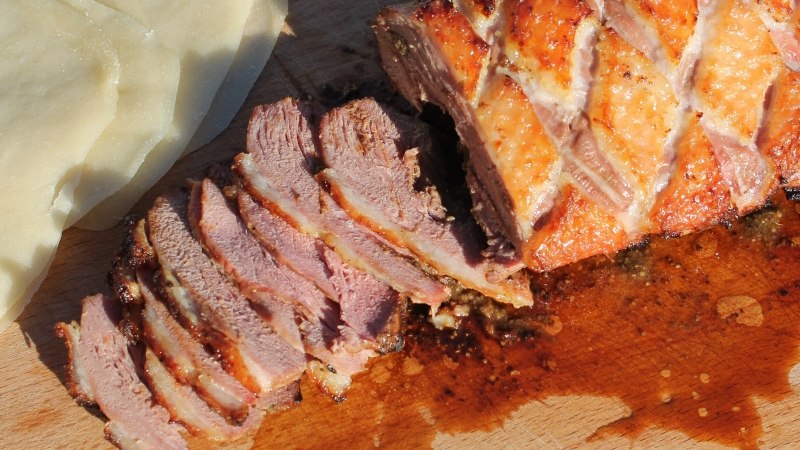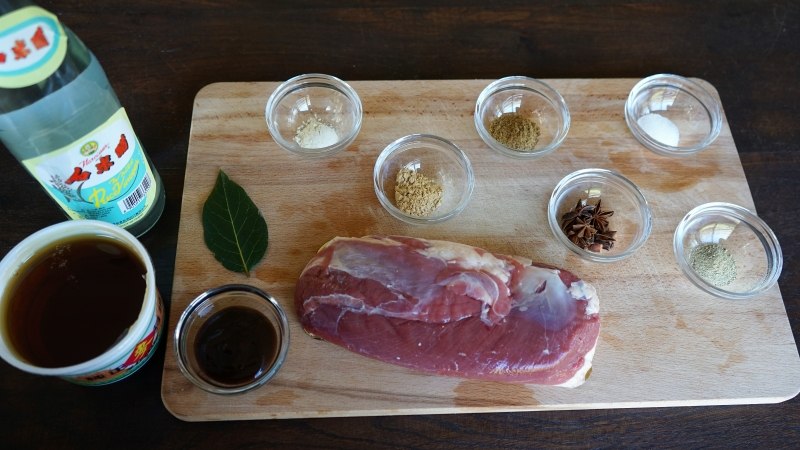 Ingredients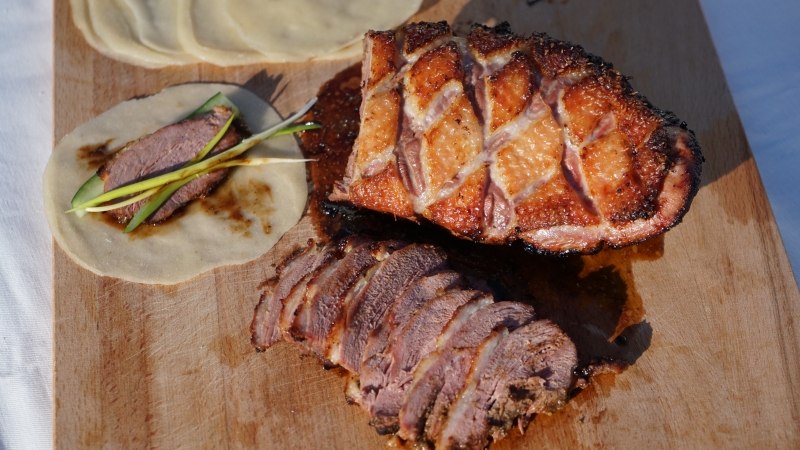 Share this recipe:
Watch the Recipe Video
Peking Duck Breast - Morgane Recipes

© Copyright 2015- Cooking With Morgane - Bounnhing Boualavong. All rights reserved.