☰
Cooking with Morgane
Welcome
×
Lemongrass Fried Chicken
Enjoy these delicious crispy chicken drumsticks just like in Laos or Thailand
To get fantastic lemongrass fried chicken drumsticks, marinate them at least overnight in the fridge, 24 hours is even better. The taste will be intense using fresh lemongrass. In Asian grocery stores, you can also find frozen chopped lemongrass, if this is the one you use, it will take 4 tbsp. For those who wish to use dried lemongrass, you will need to ground it quite finely, otherwise it will have little fragrance. You can leave the skin of the drumsticks, it will also bring taste and become crispy. Regarding garlic, I did not use fresh garlic, because it would not withstand a ten minute frying, you need garlic powder.
Before frying, I carefully coat the pieces of chicken in cornstarch, it will protect the flesh during cooking and thus keep it soft and juicy. In addition, the cornstarch will become very crispy and appetizing while remaining thin and light. Enjoy your chicken drumsticks with sticky rice and vegetables. I added a Laotian-style dipping sauce for the rice and green beans for example. The chicken doesn't really need the extra sauce. Bon appétit.
Ingredients for 4 people
1kg chicken drumsticks
3 lemongrass
1 tsp grated ginger
1 tsp garlic powder
½ tsp salt
½ tsp ground pepper
1 tbsp fish sauce
1 tbsp oyster sauce
80g cornstarch
Dipping Sauce
1 shallot
1 tsp sugar
1 tbsp toasted sticky rice powder
1 tsp hot chili powder (or sweet)
2 tbsp fish sauce
1 tbsp lemon juice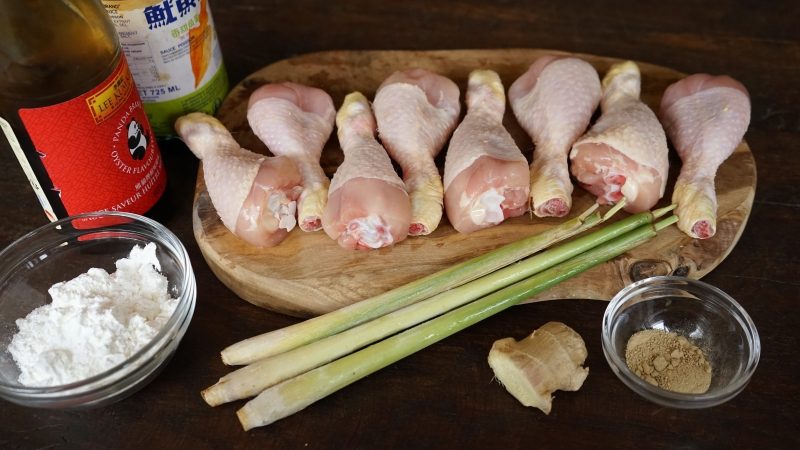 Ingredients
Share this recipe:
Watch the Recipe Video
Lemongrass Fried Chicken - Morgane Recipes

© Copyright 2015- Cooking With Morgane - Bounnhing Boualavong. All rights reserved.