☰
Cooking with Morgane
Welcome
×
Fruit Agar Jelly Verrines
A rainbow of colors 100 percent natural
In Thailand it is easy to find street food shops selling agar jellies of all colors and shapes, their displays are a feast for the eyes. They are thirst-quenching but most often made from food coloring and they offer no other taste than that of the coconut layer. In the recipe that I propose you here, everything is natural, only the fruits bring their color and taste.

Agar-agar is made from an algae that can convert liquids into jellies, you can buy it as fibers or powder (more practical). It is widely used in Southeast Asia and Japan, now more and more Western chefs are incorporating it into their recipes. It gives a transparent jelly and is suitable for gluten-free diets.

The coconut layer brings sweetness that goes very well with all fruits, it is also natural since it is also composed of agar-agar, water, sugar and coconut milk. If as in my video, you want to make a large buffet - 10 different fruits for 44 verrines - you must keep your agar-agar pan over the fire to prevent the coagulation that will occur at 40°C. I use 10cl of water with sugar and agar-agar for 200g of fruit and that gives 4 to 5 verrines. Do not forget to add each fruit a little lemon juice. You can reduce the amount of sugar depending on your tastes.

Make a beautiful rainbow colored buffet for your guests. Everyone will love it and it will become a game to find with the color and taste what fruit has been used in each verrine. You can of course also invent weddings between fruits. Bon appétit.
Ingredients for 12 Verrines
Fruit layer
200g fresh or frozen raspberries
200g mango
3 passion fruit + ½ an orange juice
1 lemon
7g agar-agar powder
50cl water
80g sugar
Coconut milk layer
16cl coconut milk
5cl of water
2g agar-agar
30g sugar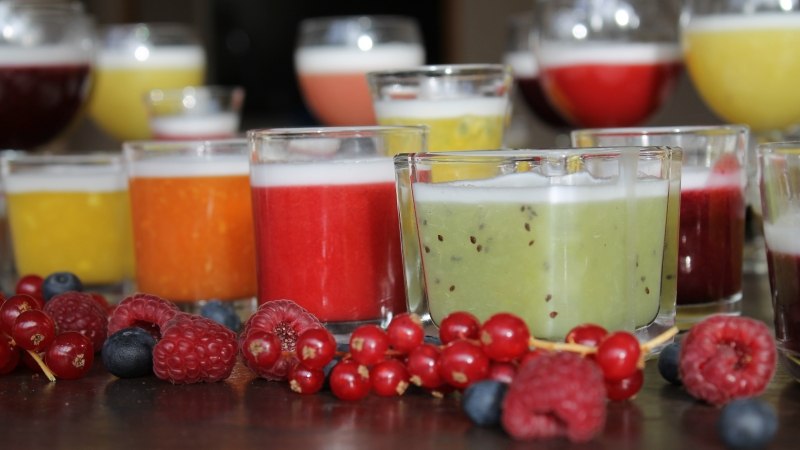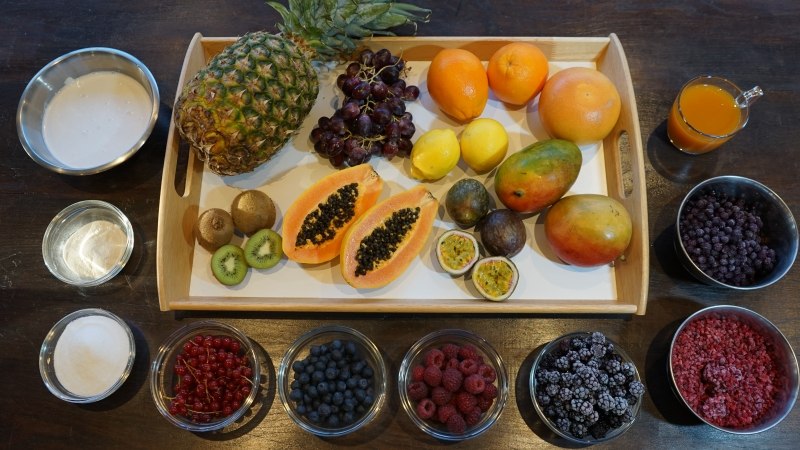 Fruit Agar Jelly Verrines Ingredients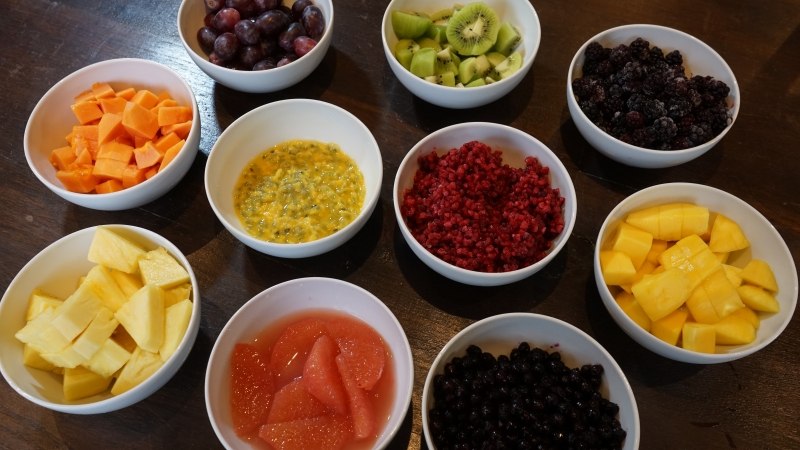 Prepared fruits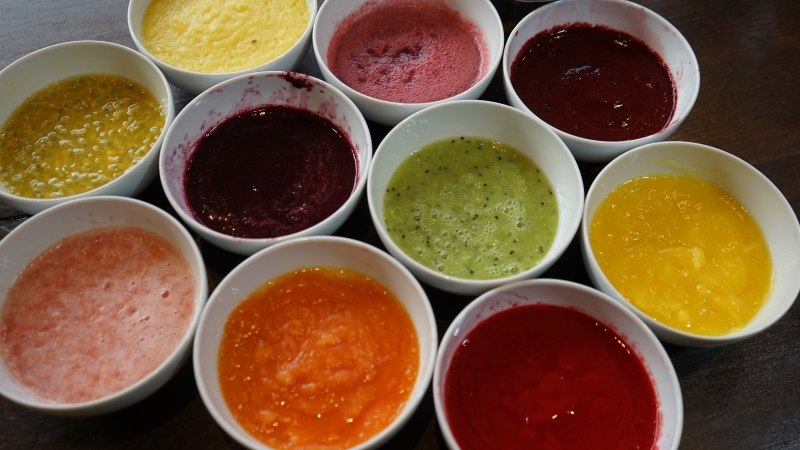 Blended Fruits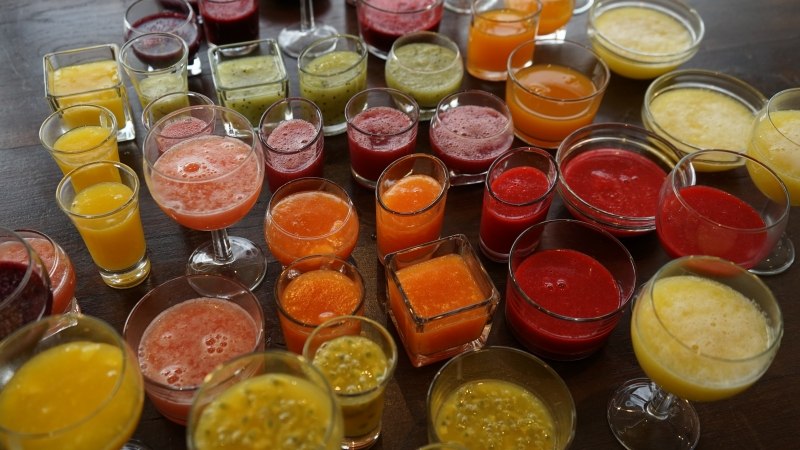 Agar jelly without the coconut layer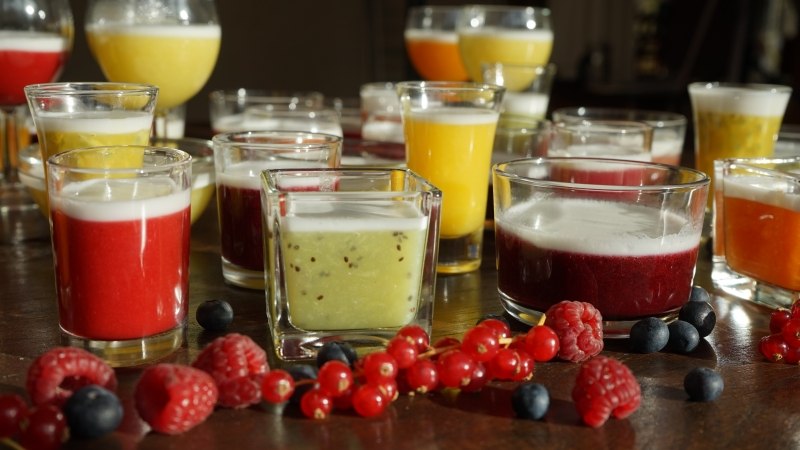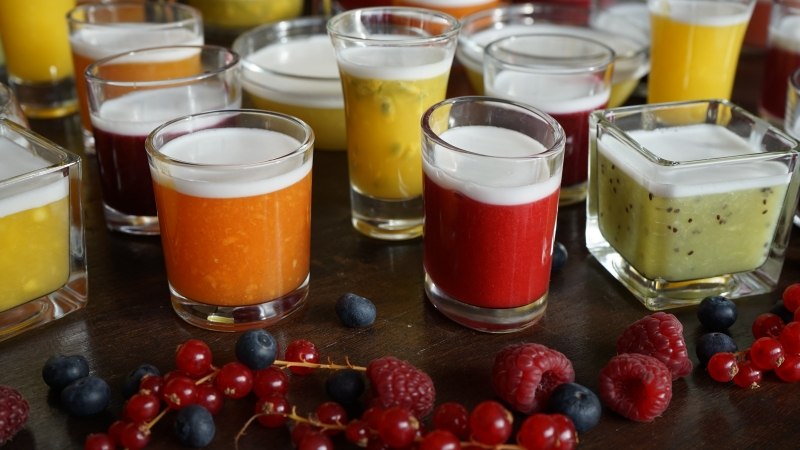 Share this recipe:
Watch the Recipe Video
Fruit Agar Jelly Verrines - Morgane Recipes

© Copyright 2015- Cooking With Morgane - Bounnhing Boualavong. All rights reserved.