☰
Cooking with Morgane
Welcome
×
Chinese Style Simmered Duck
An easy and delicious traditional recipe for Chinese New Year
This delicious recipe will be found the tables of the family reunions with the elders. Unfortunately it is becoming rare because the new generations no longer take the time to make it. This recipe should not be confused with that of the lacquered duck or the Peking duck.

The preparation is very easy: just a caramel and a mixture of sauces. Then it takes patience because the cooking time is quite long. Simmer over low heat to allow the juice to penetrate into the the flesh of the poultry.

For my duck weighting 3 kilos, I cooked two and a half hours. With a one kilo chicken, plan at least 1:30 and for a two-kilos fowl, plan 2 hours. I do not cover the poultry with water because I want to get an intense juice. Remember to carefully turn your poultry several times during cooking.

A variant recipe to make the meat even more tender is to prolong the cooking time up to 4 hours. It is then necessary to cool the poultry one day outside of the juice before cutting to be prevent it from crumbling. Bon appétit.
Ingredients
1 whole duck
10 anise stars
2 cinnamon sticks
30 cloves
ground pepper
40g of galanga
120g of shallots
5 garlic cloves
60g of sugar
2 tbsp of salt
4 tbsp of oyster sauce
5 tbsp of light soy sauce
5 tbsp of dark soy sauce
2 tbsp of Maggi sauce
2.5L of water
3 tbsp of oil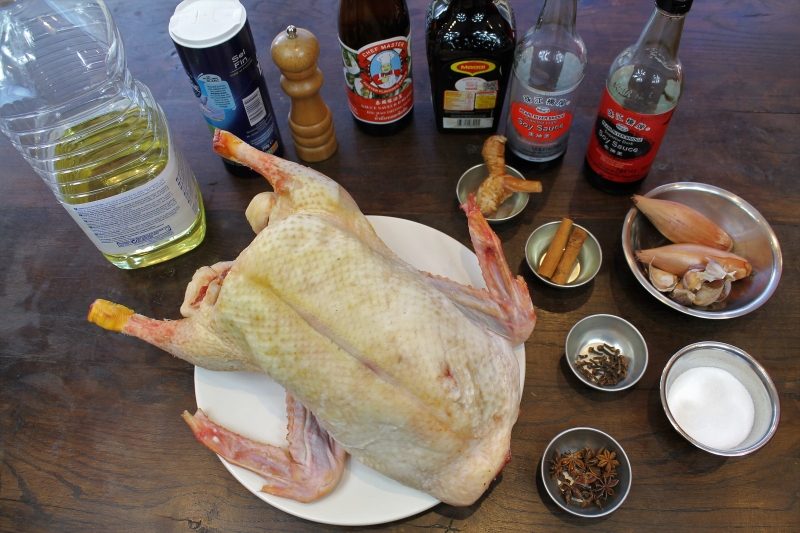 Ingredients
Share this recipe:
Watch the Recipe Video
Chinese Style Simmered Duck - Morgane Recipes

© Copyright 2015- Cooking With Morgane - Bounnhing Boualavong. All rights reserved.